Cast announced for Fall Play
The Secret in the Wings adapts little known fairy tales and mixes them with dark humor and wit
US Theater director Eric Severson announced the cast of 32 students, grades 9-12 for the US Fall Play, The Secret in the Wings. 
Sophomore Peter Michel looks forward to the structure of the show. "It's very ensemble focused and has lots of artistic elements," Michel said.
Although the show is not a musical, it has several musical elements: "I don't know, I like the fact that there is a singing element to it [the play]," Ananya Narayan said.
Auditions for the fall play were held Sept. 25-26.  Senior Dorienne Hoven said, "The auditions were fun and the scenes are really weird. It's a bunch of fairy tails, and they are all really dark."
Because the show has an ensemble cast, much of the audition process was collaborative: "I liked how welcoming and supportive everyone auditioning was. We all worked together to have fun performing cold readings," sophomore Lily Ramalingam said.
Junior Elise Parsons found the audition process enjoyable: "I thought it was fun, and it wasn't really stressful because I have done this before," Parsons said.
Full Cast:
Isobel Alm – Child/Ensemble
Ethan Asis – Third Prince /Boy's Servant/1st Son/Ensemble
Rafael Barocas – Children/5th Son/Ensemble
Dianne Caravela – Ambassador/Voice #4/Ensemble
Drew Fawcett – Mr. Fitzpatrick/Father of Seven Sons/Ensemble
Nathan Forsberg – 3rd Suitor/Ensemble
Adrienne Gaylord – 4th Suitor/Singer/Ensemble
Jonah Harrison – Father/Second Prince/Singer/Allerleira's Father/King/Ensemble
Rylan Hefner – Singer/ Children/Ensemble
Dorienne Hoven – First Blind Queen/Snake Leaves Princess/Ensemble
Rachael Johnson – 2nd Suitor/Voice #3/Attendant/Ensemble
Gavin Kimmel – Singer/2nd Son/Ensemble
Grace Krasny – Singer/2nd Lady-in-Waiting/Children/Ensemble
Evelyn Lillemoe – Singer/5th Lady-in-Waiting/Children/Ensemble
Peter Michel – Papa/4th Son/Ensemble
Max Moen – First Prince/Boy/7th Son/Ensemble
Chloe Morse – Allerleira's Companion (Heidi)/Mama/Ensemble
Ananya Narayan – Second Blind Queen/Singer/Ensemble
Maren Ostrem – 4th Lady-in-Waiting/Voice #1/Ensemble
Elise Parsons – Singer/Allerleira's Companion (Louise)/Ensemble
Lillian Pettigrew  – Mother/Princess Who Wouldn't Laugh/ Allerleira/Ensemble
Noah Raaum – Son of Third Blind Queen/2nd King/Ensemble
Lilly Ramalingam – 1st Lady-in-Waiting/Ensemble
Sylvie Schifsky – "Father" of Princess Who Wouldn't Laugh/Evil Mother/Singer/Ensemble
Katie Schlinger  – Children/Voice #2/Ensemble
Maya Shrestha – Third Blind Queen/Singer/Daughter/Ensemble
Anja Trierweiler – Singer/Children/Ensemble
Henry Vlietstra – 1st Suitor/Singer/6th Son/Ensemble
Tina Wilkens – 3rd Lady-in-Waiting/Ensemble
Gemma Yoo – Heidi
Max Zelle – 5th Suitor/Sea Captain/3rd Son/Ensemble
Mira Zelle – Nursemaid/Allerleira's Companion (Laura)/Stranger/Ensemble
The Secret in the Wings, a play by Mary Zimmerman, will take the Huss Center stage on Nov. 17-18.
About the Contributor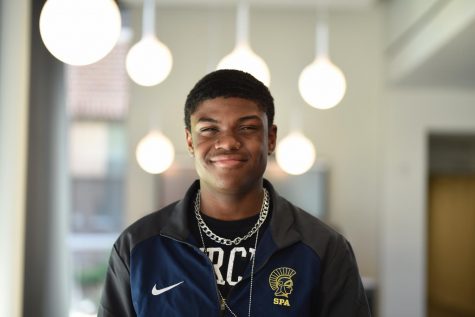 Tristan Hitchens-Brookins, Podcast Editor
Tristan Hitchens-Brookins is one of the members of the Interactive Storytelling Team at RubicOnline. This is his third year on staff. Tristan's philosophy...