Breaking away from the gender binary
Gender goes far beyond the binary. It's a fact that male and female are not the only ways one can define themself. However, this idea has yet to become normalized in many places, as people are continuing to see through a black-and-white lens.
According to the Pew Research Center, in 2021, 42% of U.S. adults knew someone who was transgender, and 26% knew someone who used gender-neutral pronouns. Additionally, many people have yet to come to terms with their gender identity or determine where exactly they fit best, which can't be accounted for in a simple statistic.
For those who have, though, the process of self-discovery as it pertains to gender can be extremely difficult. "I don't know anyone who would choose to be transgender, […] there's a constant invalidation of your own person," sophomore Oliver Zhu said of his own experience.
Zhu often feels like his identity is limited by the label "transgender," when there is much more to who he is beyond that singular aspect. "I can't just be a person. I've got to be a trans person," he said. "I've got to be a person who has just been different and will be different than what is the accepted binary."
"
I don't know anyone who would choose to be transgender, […] there's a constant invalidation of your own person."
— Oliver Zhu
Finding acceptance and a safe space to be one's authentic self, though, makes everything so much better. This includes the school community, and at SPA, there are certainly things to be celebrated. Junior Lela Tilney-Kaemmer said, "I know there are a lot of other students that identify as, on the gender scale, not specifically just male or female, and that's really supportive, knowing that there are other people like me."
Upper School groups like the Gender and Sexuality Alliance club and the Rainbow Connection affinity group are open to members of the LGBTQ+ community and/or allies, offering a safe space for all.
Senior Annika Brelsford added, "I felt really supported with my pronoun changes, especially with the pronoun form, introducing myself in classes with my pronouns, and with general acceptance from teachers." New pronoun practices have created a more comfortable environment for many people, with small changes as simple as teachers wearing pronoun pins on their lanyards.
However, there is always room to improve. Tilney-Kaemmer spoke to the importance of incorporating more education about gender and sexuality into the curriculum: "We're very open with the thought of having different pronouns and different gender identities and different sexualities, but we never really teach it, per se," they said.
Additionally, it seems that the administration can be slow to introduce new policies that students feel are important, including those relating to gender. Brelsford shared that perhaps this stems from a worry of making mistakes or doing something unnecessary. "That fear is kind of silly to me because you'd think that if gender-queer students are bringing up issues, they know what needs to be changed in regards to their experience at school," she said.
Regardless of where students and faculty members identify on the gender spectrum, building a culture of inclusion at school and in other communities is extremely important for everyone to feel welcome. Zhu said, "Respect someone's gender, just as you'd respect their interests, their family, because that's all just part of them." Everyone has their differences, but at the end of the day, all people deserve to feel valued for each and every unique aspect of who they are.
Leave a Comment
About the Contributor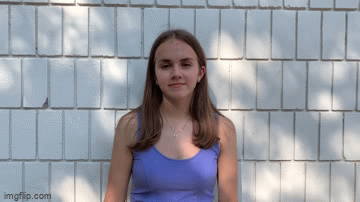 Eliana Mann, A&E Editor
Eliana Mann (she/her) is a sophomore and the A&E editor for RubicOnline. She loves to travel, and even lived in Australia for half a year when she...