Boys hockey players push forward after departure of Head Coach Funk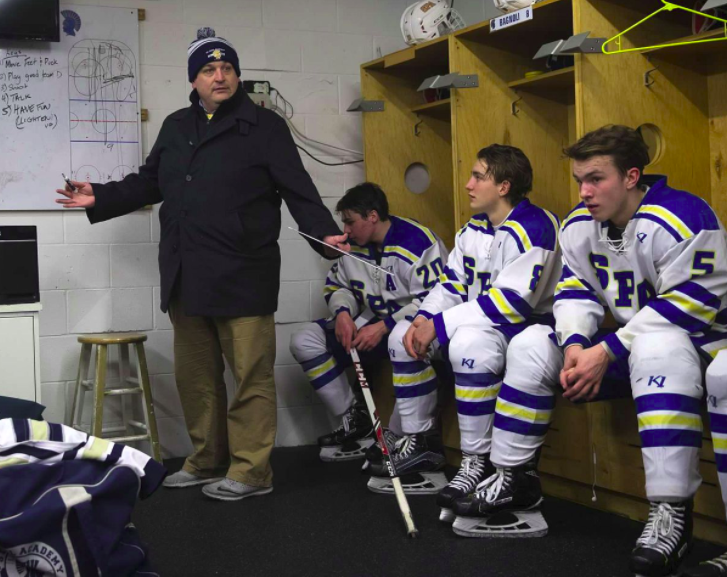 Head Coach of Spartan Hockey Matt Funk resigned this month after three years of shaping the varsity team. Funk garnered instant success and support serving as the Head Coach, making it to the state tournament his first year and the section final his second year. Though the team dropped in form with a record of four wins and twenty losses this past season, Funk remained key to the successes. For the 2018-19 season, Funk will become the new head coach at Cretin-Durham Hall. Funk does leave a nearly unchanged set of players, with only one senior graduating.
Junior and captain Adam Zukowski played under Funk for three years and was shocked to hear the news.
"I was upset because we wouldn't be able to finish our four [years] together and my senior year with him as the coach." Zukowski believes that Funk played an integral role in meshing the team together.
"He brought a sense of comfort and guidance to the guys. He was the guy I could lean on at all times through hardship like we saw last year."
Zukowski remains optimistic, though, even without Funk.
"We return every player from our roster last year, and we are going to be section 4A's most dangerous team to play. We expect to take the school back to the tourney," Zukowski said.
"
He was the guy I could lean on at all times through hardship like we saw last year"
— junior and captain Adam Zukowski
Sophomore Will Rathmanner also played both his high school seasons with Funk but was not shocked when he heard the news.
"I kind of knew it was coming, I had heard a couple of rumors and noticed a few things changing. When he rounded us up and told us all it hit me a lot harder than I thought it would just see how it made everyone else feel too," he said.
Like Zukowski, Rathmanner also believed that Funk was key to team culture, "Even though we had separate forward and defense coaches he was really the glue that kept us all together. He really got to know all of us and I really had the sense that he trusted and had faith in us," he said.
Struck by the loss, Rathmanner is currently looking forward to the new coach and the changes they'll make, "I'm really excited for the opportunity for a new coach, I've been told we have some really promising prospects that have coached at high levels applying and I think a new coach can really launch our team to the next level and help us work more as a cohesive unit which I felt has been lacking in the past." Rathmanner shares the same level of optimism as Zukowski for the next season.
"We already have a strong core with one hundred percent scoring returning so a new look could really push us to that level," Rathmanner said.
Though Funk is leaving, the players he has helped shape are ready to keep fighting for success. Losing a head coach can be hard as most student-athletes hold strong personal connections, but the boy's hockey team is ready to come back stronger than ever next season.
About the Contributor
Michael Forsgren, Arts Critic


Michael Forsgren is the Arts Critics on the RubicOnline staff. This is his fourth year on staff. Michael loves multimedia journalism and innovative...