Boys hockey celebrates senior night against Academy of Holy Angels
The boys hockey program honored 13 players from the graduating class of 2019 on Feb. 16 with back to back games against Academy of Holy Angels. The players were recognized before the start of the varsity game, and celebrated after with cupcakes and snacks from the parents of the players. Of the 13 players, seven seniors played a majority of their games with the Junior Varsity team, mainly due to the fact that they had never played Spartan hockey before.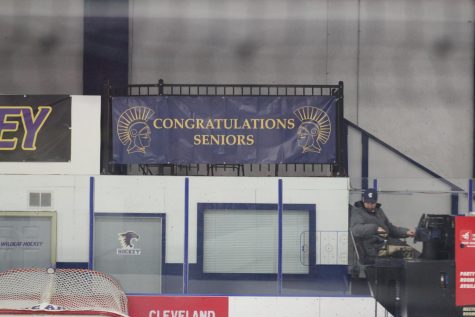 Senior Riley Tietel made the decision to play hockey this year after being the varsity team's manager during his junior year. Tietel continues to manage the team this year and has taken on the role as a JV goalie.
"I decided to help out the team after the JV coach told me that they needed someone to suit up as a goalie for one of their practices. I didn't really know what was happening, so for the first two weeks of practicing I didn't have any knee pads or anything, I was just playing with random gear. After a couple of practices, the coach asked me if I wanted to suit up for some of the JV games, so I did and just sat on the bench squirting the other players with my water bottle," Tietel said.
With an open mind and an attitude towards helping out the team, Tietel has made his senior season memorable.
"Just be ready to play, go out and compete everyday, and remember that it [the game] is all about the mentality," Tietel said.
Along with Tietel, senior Garrett Small joined the program during his senior year. Small had been to many of the hockey games in previous years, and thought it would be interesting to join.
"
Just be ready to play, go out and compete everyday, and remember that it [the game] is all about the mentality,"
— senior Riley Tietel
"I started this year because it was a good opportunity to be apart of an organization, and the team especially," Small said.
Senior Henry Hallaway has been playing Spartan hockey since his ninth grade year, but has especially enjoyed the team dynamic this season because of the number of senior players.
"It has been great getting so many new seniors this year because they are always working really hard which motivates the rest of the team. The leadership from the other seniors has helped the team a lot better this year," Hallaway said.
After playing with the team for the past four years, Hallaway has made countless memories with his teammates while playing.
"I'm going to miss playing a lot, so I think it's really important for younger players to remember that they're not going to play forever, and they should cherish the time that they still have to play," Hallaway said.
Two time captain Adam Zukowksi credits the coaching staff for his accomplishments throughout his high school career.
"I'm very grateful for the hands on coaching experience that I've gotten at SPA mainly because they have taught me how to deal with adversity and problem solving. I think I'll take what they taught me throughout the rest of my life," Zukowski said.
Zukowski has created many friendships over his four years as a varsity player, and will miss those close-knit friendships when the season ends.
"I'm gonna miss celebrating a big win in the locker room and just being with the boys everyday. They're like my brothers," Zukowski said.
The JV team played their final game against Academy of Holy Angels finishing with a record of 3-21-1. Varsity has their next game against St. Paul Johnson on Feb. 22 at 8:00 p.m. at Aldrich Arena after winning their first section game, against St. Paul Highland Park, 6-0 on Wednesday night. They currently have a record of 14-12-1.
Leave a Comment
About the Contributor
Annie Bottern, Social Media Manager
Annie Bottern is the Social Media Manager at RubicOnline. This is her third year on staff. She loves finding new facts about people while she interviews...