Boys and Girls Track and Field team bonds througout the year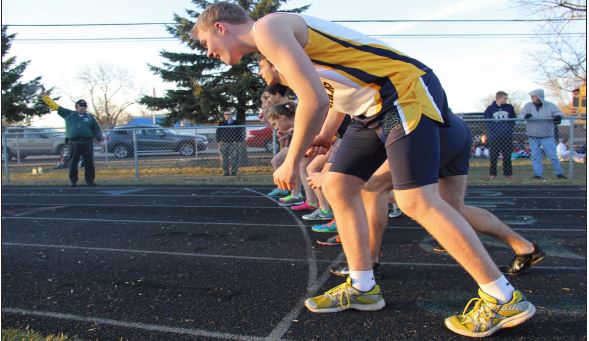 After a great win, unexpected loss or a successful season, most teams split up and merge back into their typical school lives outside of athletics. However, there are those few athletes who choose to participate in cross-country running during the fall, nordic skiing in the winter and track in the spring, allowing them to become more connected as a team than other athletes.
This spring, the track team's practices have started, but most aren't meeting their fellow teammates for the first time or after a long absence. "I met a lot of people before school during the cross country season so I kind of figured out that I'd be with the same people," freshman Nora Kempainen said. Many of the students who are members of the track team have been running and skiing together for a long time and Kempainen is one of the members of this small family.
Kempainen was new to SPA this year and her parents encouraged her to do all three sports so she could "have a good group of friends," Kempainen said. She said she has made friends in different grade levels due to their constant company throughout all three sports seasons and that the community atmosphere of these three-sport athletes encourages other people to participate as well.
However, junior Michael Destache states that less new students have been joining; "I started doing all three in seventh grade. It is mostly the same people that do these three sports. We had a big team my seventh grade year but it has been getting smaller due to seniors graduating and not many people wanting to join," Destache said. Perhaps the tight knit group has been intimidating students who haven't done all three to sports to suddenly join in. Still, these athletes, many of whom started out in Middle School, seem to agree that there's a certain appeal surrounding the "all in this together" structure of their team which lasts throughout the year.
"I've been doing track and nordic since 7th grade and I just started cross country," freshman Neeti Kulkarni said. "There's definitely that [community] atmosphere and everybody knows what's going on with each other. We help push each other and encourage each other," she said. Kulkarni also stated that she feels as if she and her fellow skiers and runners have a stronger team connection than most.
Students who participate in only one of these sports will hopefully be convinced by the strong support system and community to join all three, knowing they'll be with mostly the same people. "It is very nice because you're not going into a new sport with unfamiliar people and it creates a very close community," Destache said.
This allows students to create bonds across grades and genders, regardless of common classes or friends and maintain these bonds all year round because of their continued companionship through athletics.
Last year the Field team had a few members make it into the finals in high jump during sectionals. Even with the good season last year, the lingering cold has delayed training.
"The challenges with the ground being wet and all of the cold weather it is just getting out and being able to practice some, for my jumpers I did not get them on the long jump runway till April 11," assistant Track and Field coach Kaitlyn Frenchick said.
Despite losing team members for this year, the team is looking forward to a new season and improving across all events such as high jump, long jump, triple jump, shot put, and discuses.
"We lost a ton of seniors so we are rebuilding the team right now," freshman Moira McCarthy said.
"[Senior] Christian Koch is our only returner for the field, he's looking good in the discus to be a contender in state," Frenchick said.
"The team is looking strong. We have a several new faces on the team, which will add a lot to the team. We also have recruited more throwers, along with a new thrower coach. We are very hopeful for a successful season," Frenchick said.