Photo submitted by Zach White, courtesy of Vertical Endeavors
What does climbing consist of? Ropes, helmets, clips, harnesses, and of course, heights. Climbing, gear, and fear (or the lack thereof) are almost synonymous, but an increasingly popular form of climbing – bouldering – challenges the status quo. Bouldering consists of shorter problems and  is a much safer distance from the ground compared to taller top-rope courses – boulders are usually under 20 ft. The sport has become so popular, that it is being considered to be added as an Olympic sport in 2020. Though bouldering might make its international debut in five years, the USAC (U.S.A. Climbing) hosts many bouldering competitions throughout the Midwest, garnering fans even from St. Paul Academy and Summit School such as sophomore Zach White and junior Mackenzie Kuller.
White climbs for the Midwest Climbing Academy and has been climbing for two years now. Nonetheless, his love for climbing existed even before he took up the sport competitively.
"I've always liked [climbing] but I never really got into it until now…I used to climb but I never did it competitively. I always just climbed for fun; I went with my brother. It wasn't really a big thing, it was just sort of there. I always looked at it as sort of a hobby until a year ago," he said.
White ranks 56th out of 429 Midwestern male Youth-A ABS 17 climbers and recently participated in a bouldering competition on Nov. 8. White also placed 2nd in his category at a regional bouldering competition at Vertical Endeavors during its annual Oktboulderfest. Another SPA student, junior Mackenzie Kuller, placed 1st in her category at Oktboulderfest.
Kuller also recently took up climbing competitively, and much like White, had previous experience with climbing as a family hobby.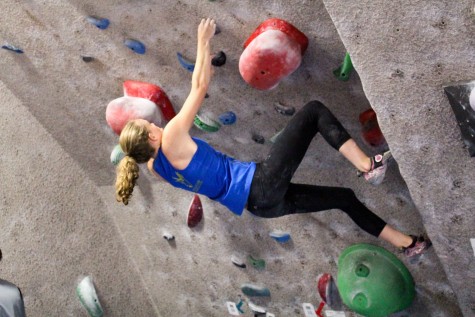 "When I was little I would go to REI with my parents and climb [the wall there]," she said.
After quitting gymnastics, Kuller decided to try climbing and has been climbing for three years. When she first began learning it, she tried top-rope and lead climbing, as well as bouldering.
"I used to like top rope and lead [climbing] better, but then I got scared of lead climbing so now I like bouldering," she said.
Though bouldering lacks the safety of a harness, it is much closer to the ground.
"I like that it's closer and easier to get on or out and start in the middle and try the problem from there," Kuller said.
For climbers like Kuller, bouldering's safer distance from the ground and freedom to start wherever make the form more attractive. But for White, bouldering's safer distance from the ground allows him to try riskier moves.
"It's a lot more fun [to jump] than just placing your feet, plus it looks cooler," White said.
Both White and Kuller appreciate the climbing community and consider it as an important aspect of climbing.
"It's a lot of fun, you get to meet all these awesome people – it's just a really social sport," White said.
Kuller agrees, citing the community as the first thing that comes to mind as a reason why she climbs.
"The people are always really positive and supportive. It's a really great community. It's just fun like any sport you do-you just enjoy it," she said.