Bishop is a Spartan, a Tiger and now an Athena
Whether on the softball field, volleyball court, or hockey rink, senior Kathleen Bishop has never failed to impress her family and friends, teammates, or coaches. Her hard work, talent, and determination haven't gone under the radar either. Just to name a few of her many accomplishments, Bishop committed to playing D1 volleyball at Princeton earlier this year and was also named the volleyball Athletic Conference Player of the Year, Most Valuable Player (MVP); softball three-time MVP, two-time captain, etc. To add to that list, Bishop was just recently awarded the 2020 St. Paul Area Athena Award.
Like the Greek mythology goddess Athena, the St. Paul Athena Award is given to honor outstanding high school female athletes in grade 12 all throughout St. Paul area schools, who like Bishop, carry characteristics of wisdom, courage, skills, and most importantly, are an inspiration to others.
Bishop, who has only been surrounding herself with the best of the best was not new to the Athena Awards. She said, "I knew about Athena just from other assemblies and hearing from my team members who had won in previous years. There's like so many amazing people who filled in for what the Athena Award exemplifies that I was just excited that people had voted for me in the first place so it was just nice to have other people and my other students see me as someone who could be the Athena."
Sophomore Esther Allen is one of the many people who can affirm for Bishop's inner Athena. After picking up volleyball for the first time since quitting in 5th grade, Allen decided to rejoin the team- in part because of Bishop. Allen said, " I went to a captain's practice this summer and I was really nervous and had absolutely no idea what I was doing. But Kathleen helped me learn how to pass, serve, hit and it was amazing. I'm so thankful she was there because now I'm in love with my volleyball community and girls… I'm for sure going to continue doing it until the end [graduation]."
"
I'm so thankful she was there because now I'm in love with my volleyball community."
— sophomore Esther Allen
Besides her teammates, winning the Athena Awards was also quite meaningful to Bishop because her love of sports and inspiration came from other Athena athletes like her. Bishop said, "I definitely think the team aspect was what I was drawn into when I was younger and I think that was a big part of why I continued playing. Of course, I love the athletic parts of it [sports] but its something about sharing the passion of the game with other people who love it just as much as you do. And also as you grow up in a sport, your passion increases along with your teammates. It's just really fun."
The 2020 St. Paul Area Athena Award luncheon has been canceled due to concerns regarding COVID-19. To compensate for the loss, the Athena Committee has taken the time to make each recipient a special acknowledgment. And not just the luncheon, many of Bishop's other athletic plans for the rest of this season, like club volleyball; and the rest of the year, like college volleyball, have become unclear.
"
I love the athletic parts of it [sports] but its something about sharing the passion of the game with other people who love it just as much as you do."
— senior Kathleen Bishop
Bishop said, "Our season is mostly from winter and through the summer so our season right now has been postponed or at least canceled due to the stay at home orders so we're kind of just waiting it out to see how long it will be canceled. I'm not sure if the season in its entirety is over with but they're trying to push back some tournaments. The future is so uncertain so I'm not quite sure if we'll get the rest of our season so that's definitely been a bummer because this could have been a good year for my field development going into college. I'm still so grateful for the few months that I did get to play with them and work with my coaches. As far as next year, they're still kind of working out plans so we haven't heard anything definite. It's all up in the air."
Bishop hasn't let COVID-19 get to her- physically or mentally.
"I do a workout every day," she said, "I try to get them done in the morning. Just like core, arms, legs, kind of the basics. I do it with my sister which is nice cause it's hard to do a workout by yourself and I don't like to run so I go on bike rides. That's a good way to stay in shape but also just a nice way to get outside and just enjoy the weather since it's finally getting nice out and it's more enjoyable than other workouts I found."
Bishop also added, "I'm not exactly sure what everything will look like but I'm excited. Oh my gosh, I'm so looking forward to everything that is to come. I'm just excited to get to know my teammates and just get into the gym with them, learn from new coaches. I'm really excited to experience a game day where I'm a member of the team, going on the road, I'm pretty much excited for all of it."
Bishop is the second SPA athlete to receive an Athena Award.
About the Writer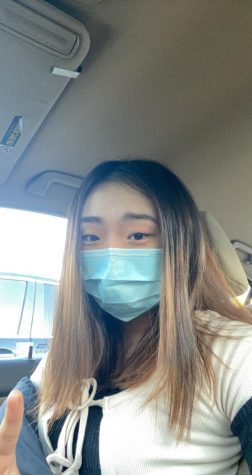 Elle Chen, Production Manager
Elle Chen is the Production Manager on RubicOnline. This is her third year on staff. During the pandemic, Elle has been spending a lot of time with her...