Beginning strings practices for upcoming concert
Beginning strings students are looking towards the upcoming orchestra concert May 29 with mixed feelings. This will be the first concert that they will be playing in with the chamber ensemble, and they will play only one song, the beloved Journey hit: Don't Stop Believin'.  
"I'd say I'm excited for it," said sixth-grader and beginning cellist Aiden Johnson. "I think it's gonna be fun but I'm also a little bit concerned about it. I feel like maybe we haven't been taught everything there is to teach us, and maybe I won't be able."
Sixth-grader beginning  bassist Sophia Bietz is feeling different. She says she feels prepared for the concert, and will be even more prepared come concert time: "Right now, this week, this past week, we've just been, like, starting to learn the ending of the song, and just with more practice with it it'll be good."
"
I think by the end of the year, most of the beginning students can hang with the rest of the orchestra."
— MS Upper Strings teacher Cara Wilson
"Me, myself, I'm feeling pretty confident." said sixth-grader beginning violinist Georgia Ross.
Another violinist with previous experience is sixth-grader Aarushi Bahadur is also feeling confident. "I played violin at my old school from fourth grade," she said, "but the concerts weren't as big as this and these are harder songs."
Bahadur said she thinks this concert experience will be less nerve-racking than her previous ones because "we have a big group and I feel very prepared."
The beginning strings instruments practice in two groups: basses and cellos and violins and violas. Inside of those two groups one may be more concert-ready then the other.
"We have a practice of violas and violins, and I feel like the violins are doing pretty well, but the violas just aren't really getting it," Ross said.
She said she thinks the violins are more prepared than the violas, and Bahadur agrees. As for the basses and cellos, Bietz thinks it's the basses and Johnson thinks it's about even, while sixth-grader beginning cellist Miriam Harper thinks overall the cellos are more prepared, especially because the basses recently had to swap out their standup basses for bass guitars.
"Probably the cellos because we've been playing cello for a while," Harper said, "and since the basses just started playing bass guitar. So we've had like more "prep time" for our instrument, but, yeah."
Beginning violins and violas teacher Cara Wilson has seen multiple beginning strings students prep, practice, and play in the concert.
Wilson said, "I think by the end of the year, most of the beginning students can hang with the rest of the orchestra."
She said they might not feel super confident, but most of the students, when playing with other people, can do it. She also said something that can be very hard for the beginning strings students is playing in tune.
What advice does she offer the beginning strings students?
"Look up. Listen around you. Do the things you know how to do. And enjoy the sound."
Wilson added that "To be able to go from not knowing how to hold an instrument to be able to play a piece in a huge group, that's a big accomplishment. And it's much more rewarding, after you've done all that work, to be able to play with everybody else. Instead of just other beginners."  
Her last piece of advice: "Everyone should learn to play the viola."
Sixth-grade cellist August Gaspard played with the chamber orchestra in the previous concert this year. He said when he found out the beginning strings students would be playing the concert, he was kind of surprised. His advice to them is to "Make sure you bring your tuners. And don't come late or she'll make you put all the chairs away."
The MS Spring concert takes place in the Huss Center on May 29 beginning at 6:30 p.m.
________________________________________________________________________
This story was produced as part of a MS Mini, where The Rubicon staffers taught press law and ethics, interviewing, basic photography and news / feature skills to participants.
Leave a Comment
About the Contributor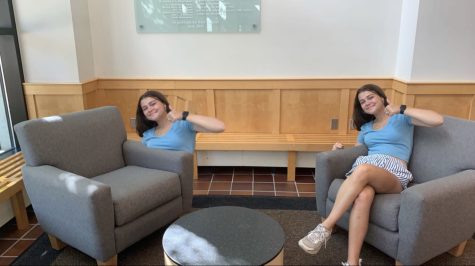 Johanna Pierach, Good Question Editor
Hi, I'm Johanna Pierach (she/her), The Rubicon's Good Question editor for the 22-23 school year. This is my second year on staff, and last year I worked...