Bailey Donovan takes nationals by storm
Junior Bailey Donovan competed at the Junior Nationals in Sun Valley, Idaho during the first half of March due to her prowess in skiing. Not just anyone can advance to this level of ski; Donovan qualified because of her strong and rigorous dedication to the sport.
"I went to Junior Nationals because I qualified for them. I placed fourth at the Central Championship and beat about 80 people to secure a spot," Donovan said.
Defeating approximately 80 people in a race was no easy feat, but Donovan's struggles didn't end there: "Junior Nationals were very hard; the top racers from the for divisions across the nation were selected to race. I did pretty well for my age group. In slalom, I got 18th out of 85 skiers and in GS I got 35 out of 80 skiers," she said.
"
You get to meet people from all across the country and I stayed with people from other divisions. "
— Bailey Donovan
The overall feel of the competition did not make Donovan feel entirely uncomfortable and actually helped her enjoy herself; especially later in the competition. The venue of Junior Nationals did help Donovan acclimate to the environment of the competition.
"It was pretty nerve wracking for my first event, the night before I actually had a panic attack. But after you do your first run it gets a lot easier. You get to meet people from all across the country and I stayed with people from other divisions, and I hung out with my friends a lot. I also worked out to make sure that I was acclimated to the altitude. I also met a lot of new people from other divisions while I was there. I explored the village of Ketchum, which was where I was staying. It was really fun to be there and I placed well in my favorite and best event: slalom. I am hoping to make it to Nationals as well as Junior Nationals next year, " she said.
While there are many competitions and sports that occur in the community the athletes are not always recognized for their achievements, so celebrating Donovan's feats at Junior Nationals will get the knowledge out in the community and sets goals for aspiring athletes that will come in the future.  
About the Contributor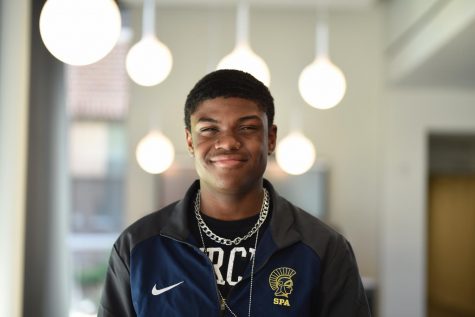 Tristan Hitchens-Brookins, Podcast Editor
Tristan Hitchens-Brookins is one of the members of the Interactive Storytelling Team at RubicOnline. This is his third year on staff. Tristan's philosophy...