Aventuras y aviones in Spain told on our blog
Follow A&E Editor Marlee Baron as she documents the experiences of Upper School students in Spain this Spring Break.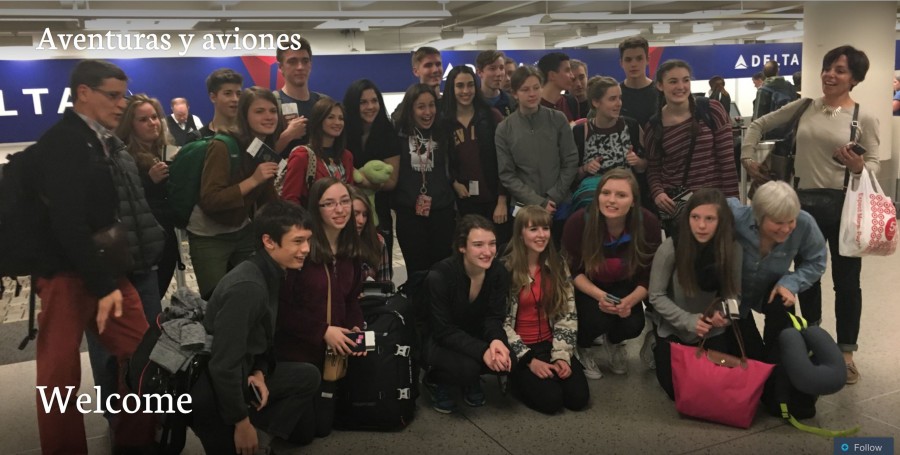 Welcome! I'm Marlee Baron, a sophomore at SPA, and I will be updating this blog as regularly as possible (the wifi is pretty spotty) with pictures and stories from the 2016 Spanish Exchange!
After almost an entire day of traveling we arrived in Arganda del Rey yesterday. We had a lot of fun getting there, though. Although few people got more than an hour or two of sleep, everyone had fun.
We were greeted by our exchange students and their families with signs and food! The food was especially nice, since we all knew we wouldn't be eating for a long dinner for a long time! In Spain the eating schedule is very different than in the US. They eat lunch at 2 or 3 in the afternoon and don't eat dinner until 10 or 11 at night. That's going to take some getting used to!
I don't know what most people did after they left the little party, but my exchange student Sofia and I went over to Emilia's exchange student Paola's house and watched Insurgent in Spanish. The movie was a little confusing in Spanish, but Emilia and I had both read the book and watched the movie in English so we could understand it fairly well.
After that Sofia and I went back to her house and ate "tortilla". "Tortilla" is a traditional Spanish food, it's a omelet with only eggs and potatoes. It was really good! After that we went to bed (finally!) and I self until noon (oops).
That's it for now! Today Emilia, Sabrina, I and our exchange students are going to Allegiant in Spanish and tomorrow I think a big group of people are going to Parque de Retiro. I'll post again soon!
Read more at Aventuras y aviones.  Add your e-mail and Marlee's posts will come directly to your in-box.
About the Contributor
Marlee Baron, Managing Editor
Senior Marlee Baron is looking forward to her fourth year on staff and her first year as the managing editor for The Rubicon. She has previously worked...