Athletic department strives to raise school spirit, improve programs
In 2019, representatives from the Independent Schools Association of the Central States (ISACS) made a visit to evaluate SPA and offer suggestions for future improvement. While it was obvious that the performing and fine arts programs were extraordinary, and the state-of-the-art facilities contributed to the academic rigor and prestige of the institution, one piece of feedback rang loud and clear: the athletic program was behind other private schools that the association oversees.
"The school has had many competing projects and priorities over the past several years, all of which are important. It is the role of our department to shine a spotlight on athletics and help to elevate the experience and celebrate the accomplishments of our student-athletes," interim K-12 Athletic Director Rick Johns said.
This year, the athletic department has set their sights on changing the sports culture and programs through internal shifts within the department and looking outward to best support the student body's engagement with sports in small but meaningful ways. This has become particularly important after high turnover in department leadership and upper school administration. The department believes team spirit impacts school culture.
"
School spirit is a warmth that brings synergy to the community."
— Rick Johns
"School spirit is a warmth that brings synergy to the community, and having that pride and sense that you are a part of something bigger than yourself helps us get through some long days together," Johns said.
US Athletic Director Randy Comfort added, "People may play for travel teams, but there is no greater pride than having an athletic achievement when you are representing your school. Among other things, athletics are truly an avenue to build community, and that is something we really want to get across this year."
The athletic department includes Comfort and Johns, MS Athletic Director Taylor Tvedt and administrative assistant Hope Walcheski. After the departure of K-12 Athletic Director Dawn Wickstrum this summer, Tvedt and Walcheski played a key role in the organization and execution of coordinating fall sports.
"Many people have had doubts throughout my career that I was too young for an administrative role, but when it was just Hope and I leading the department, I think people kind of realized that two young women can get the job done and do it well," Tvedt said.
While they hold different titles and have varying years of experience, the earliest change the department was in the way they view and interact with one another: their own team dynamics model those they hope to foster on student teams.
"Before this year, everyone was separated into their own silos, and there wasn't a lot of crossover in the department," Johns said. "By empowering and trying to elevate everybody by utilizing their talents, we have created this unified team where we function as equals, regardless of the titles we hold."
The department consistently meets to discuss what is and is not working, a practice they attribute as a crucial part of their success. The department's ultimate vision? To bring athletic excellence on par with the high expectations for academic and co-curricular programs, while creating an athletic experience that is the best it can be for students and families.
Simple yet impactful initiatives to increase visibility come from these conversations. One such change? The captain's wall. Early this fall, the athletic and communications departments coordinated a photo shoot for a display that showcases headshots of sports captains, rotating new photos each season. Next, they added the Spartan logo and signage to the lower stairwell showing the locations of the weight room, administrative offices, and gyms to bring more attention to athletic spaces.
View this post on Instagram
"I think the captains' wall specifically is an important way to honor the leaders of our sports," cross country captain Becca Richman said. "Many teams don't get a lot of recognition, and it's a good way to highlight all sports equally."
Positive responses to the captains wall furthered the department's drive. In addition to their efforts to send out information about upcoming sports events to the faculty every week and recognize sports teams during community assemblies, Tvedt recently created an Instagram account @spaspartanathletics where she uses social media to engage students, faculty, parents, and alumni to boost attendance and celebrate accomplishments.
The department leads by example by simply showing up. With a team of four administrators, they have made an effort to have at least one representative present at conference games and post-season tournaments and encourage other faculty members and students to do so as well. This has corresponded with faculty and students coming to events more frequently than in previous years.
With a bigger fan base, the hope is that players get to experience support from peers, teachers, administrators, and parents in the fan sections, making every little victory even sweeter.
"It feels amazing to have more people at our games, and it gives us more confidence to play well and represent our school," soccer player Masumi Kouakou said.
As fall captain photos begin to come down from the display, the athletics department looks to a winter season where they can learn from their successes during the fall sports season and continue to grow before the spring.
Leave a Comment
About the Contributor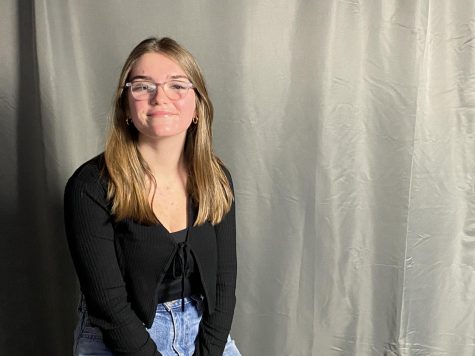 Ali Browne, Production Manager
Hi! I'm Ali Browne, and I'm the Production Manager for RubicOnline. This is my third year on staff and in the past, I have been the feature editor and...