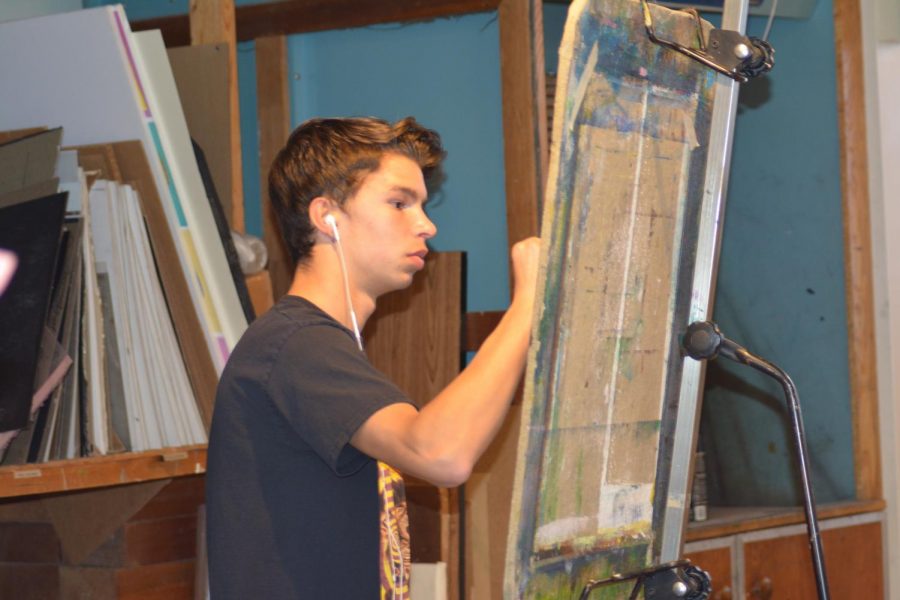 Jenny Ries
Many current high schoolers watched Spiderman cartoons when they were little, but how many can say that they were inspired by them? For 9th grader Max Endorf, who has been drawing since he was 2 years old, drawing superheroes has become a hobby, and possibly a future career.
"I want to be a comic book artist, I want to work for Marvel or something along those lines, and draw comic books. I just think it's cool because there's so much you can do when you have a nice superhero… you can add more stuff to your drawing if you have something that's not really normal or standard," Endorf said.
He was originally introduced to drawing by his parents. "My parents were just like 'you should color because it's good for young children to color and learn by doing that,' and I liked it so much that I just went from there," he said.
Even as a young child, Endorf drew inspiration from the world around him. He said, "I definitely was not good when I was a toddler, but I started pretty early on because I liked it. I think because I watched the old Spiderman cartoons and it gave me inspiration."
Now a 9th grader, Endorf continues to be inspired by such characters. "I'm a big Marvel fan. I like to draw those, and D.C. and stuff. I like to draw the comic book characters," he said, "If I chose to draw something it would be superheroes."
Within this, Endorf is currently working to perfect his technique, "I'm working on [drawing] Batman… I'm going right now for more detail and working on my shading and intricate details… to see how detailed I can go."
In fact, SPA's art program was a key factor in his decision to come to SPA. "In 6th grade why I came to SPA is because they had such a good art program… I think it's a really good opportunity," he said.
In addition, Endorf is currently in the drawing elective at SPA, and has done drawing and other art classes outside of school since elementary school.
As an older art student, he also has some new goals for his artwork. "Now that I'm much older than middle school or elementary school… I'm at this more mature stage. I think I would start more meaningful pieces that pertain to me… just because I think that's a cool way to express yourself," he said.
Endorf has already started some such projects, such as a print of his father that he made earlier this school year in the Printmaking elective at SPA. He said, "[The print] was kind of a birthday present for him [his dad] … I know kids… they'll draw their parents just for fun and draw themselves with their parents. I didn't really do that all that much, so I thought it would be nice…  I'd never really handmade anything for his birthday before so I decided 'hey, why not, this'll be cool. It's fun for me, cool for him.'"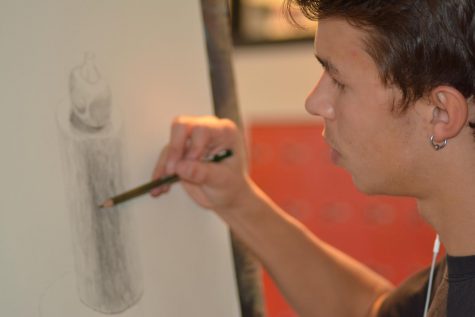 As for the not-too-distant future, he said, "I really want to go to an art college, however I do kind of want to go to… one of the bigger schools so I have more like the college experience of the social life… I think I would go to a school that has a great art program, but also has other stuff and [that] is not just primarily focused on [art]. We'll see."
Endorf is also conscious of how the social dynamics at an art school could affect his experience there. "The thing about art school is everyone would also be into art, so I would make friends doing that, but it is nice to have people outside of your comfort zone," he said.
In terms of the role art plays in his life right now, Endorf said, "Right now, I think art is like a hobby… a hobby and an interest… it's only freshman year, so I don't really have to worry about college, but I think sooner or later, it's going to start becoming a priority in my everyday life to… try to draw everyday so I can build up a portfolio to show what I've got," Endorf said.
This article was originally published in the January issue of The Rubicon.