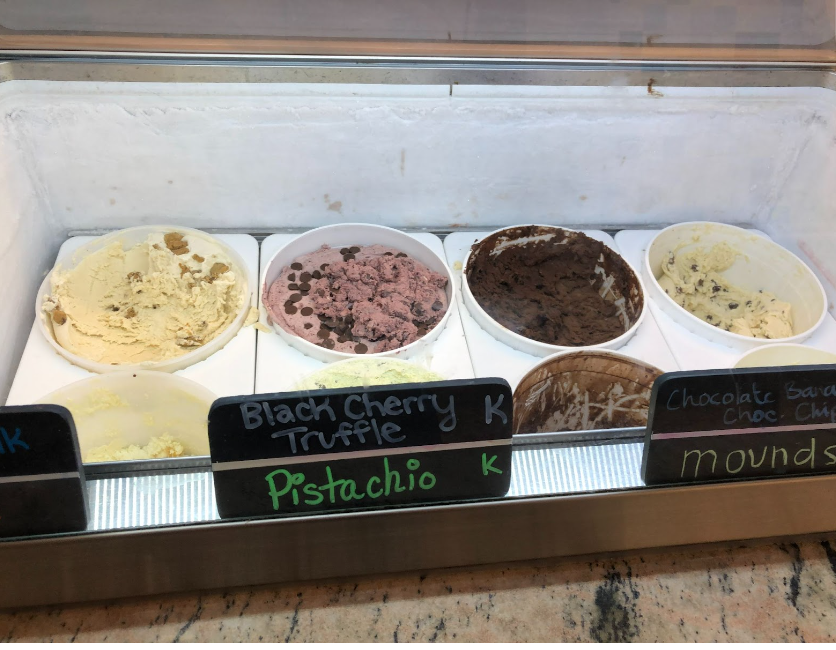 Sawyer Bollinger Danielson
As the weather starts to get warm again, ice cream is a perfect way to cool off. On this journey of three of the best places to get ice cream in the Twin Cities, the ice cream quality will be judged, as well as the variety of flavors and customer service.
Wheel Fun Rentals is located in Richfield, Minnesota and it has mini-golf, bike rentals, and an ice cream shop. After a game of mini-golf, visitors can stroll over to the small shop that has an outdoor and indoor counter. There are a variety of flavors with many toppings. There is vanilla to rum black cherry, and the toppings vary from nerds to caramel.
Quality of ice cream and range of flavors: There was a good range of flavors—something for everyone. The ice cream felt cheap, but it still tasted good.
Price: A small adult cone was $4 and came with two big scoops
Customer service: There were people at the counter but it still took about five minutes just to get all of our ice cream, when there was no line there.
Location: Richfield, which is right outside of Minneapolis.
Rating: 3.5/5
When walking into Grand Ole Creamery, the smell of baking waffles floats through the air. Grand Ole Creamery is on Grand Avenue and has the classic feel where they scoop the ice cream in front of the guests after the customers admire all of the different colors of the ice cream through the glass window. The waffle cones are made right there at the shop and at the bottom of each one there is a hidden malted milk ball. There are 32 different flavors and many different treats to choose from—cones to malts to waffle bowls. There is even a sweet treat for dogs.
Quality of ice cream and range of flavors: Grand Ole Creamery has an amazing range of flavors and there are nut-free, gluten-free and dairy-free options. The quality is creamy and smooth.
Price: A small cone with one flavor is $6 but for the amount given it feels like it should be $10.
Customer service: It is usually really busy but the employees try their hardest to get the customers their ice cream; they were running around and not taking any breaks.
Location: Grand Avenue in St. Paul is surrounded by a lot of good restaurants that one can go to before dessert. Grand Ole Creamery also has Roseville and Minneapolis locations.
Rating: 4.5/5
There are two Sebastian Joe's in Minneapolis. There was a long line but the workers were able to serve everyone fairly quickly. There were 20 different flavors such as Rum Raisin and Bailey's Irish Cream. The quality of the ice cream was the worst out of all of the three I tried. It felt rubbery and too soft.
Quality of ice cream and range of flavors: The range of flavors was really wide and there was something for everyone, but the ice cream quality was rubbery.
Price: A single scoop in a cone was $4.60. It was a good amount considering the quality and amount of ice cream.
Customer service: The customer service was really good, the workers were really nice and were working as quickly as possible.
Location: Sebastian Joe's is located in Minneapolis, on Upton and Franklin Avenue.
Rating: 3/5