American Red Cross comforts first-time blood donors
Once again, USC worked with the American Red Cross organization to host their annual blood drive. Every year, the events get larger and for the second time, the blood drive was held in Driscoll Family Commons. Although the event takes place during the school day, many students, still volunteered to participate in the blood drive. This time around, there was even a filled wish list for people who were on a donating waitlist and didn't get a slot time. 
"
Honestly, this [getting her blood drawn] hurts less than a bee sting."
— Junior Anja Trierweiler
Although the process of drawing blood only takes 10-20 minutes, the entire process of donating blood takes about an hour total. Beginning with a quick check-in with USC co-president Liam Will, the participants waited for their turn as one by one, they were called to a little booth where the Red Cross workers did a thorough checkup of them. From blood pressure, blood type to health and liability, everything was checked to ensure participants' personal safety and health as well as the people who will be receiving the blood. Proceeding immediately after the mini checkup, the participants were moved to the center of the room where their blood would get drawn with the students lying on cots. In the background, there was music playing and there were free snacks and drinks provided by the staff from Red Cross. Additionally, the staff made sure to explain every step clearly and precisely before making any moves. While drawing blood, donors are asked to squeeze a stress ball that keeps the circulation of blood continuously running to their hands and arm, this also makes the process faster. Their kindness and composure calmed down many of the donors as the process can be a little scary and intimidating. 
Junior Anja Trierweiler said, "Honestly, this [getting her blood drawn] hurts less than a bee sting." Trierweiler was a first-time donor.
After filling up an entire blood bag, the staff bandaged up the spot where blood was drawn with a gauze pad and a red band. In the case of bad bruising around the area where blood was drawn, the staff members remind donors to ice it. Upon finishing the blood drive, each participant is given a Red Cross blood donor sticker as a token of thankfulness and as a way to tell others about the blood drive. USC highly encourages participation but of course, personal comfort and safety always come first. 
If interested, the Red Cross website is linked here for more information: https://www.redcrossblood.org/
About the Contributor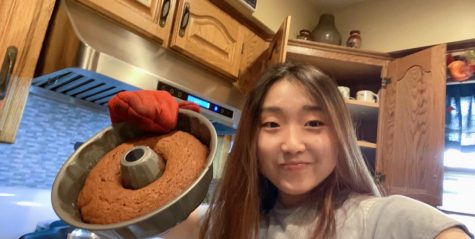 Elle Chen, Production Manager
Elle Chen is the Production Manager on RubicOnline. This is her third year on staff. During the pandemic, Elle has been spending a lot of time with her...