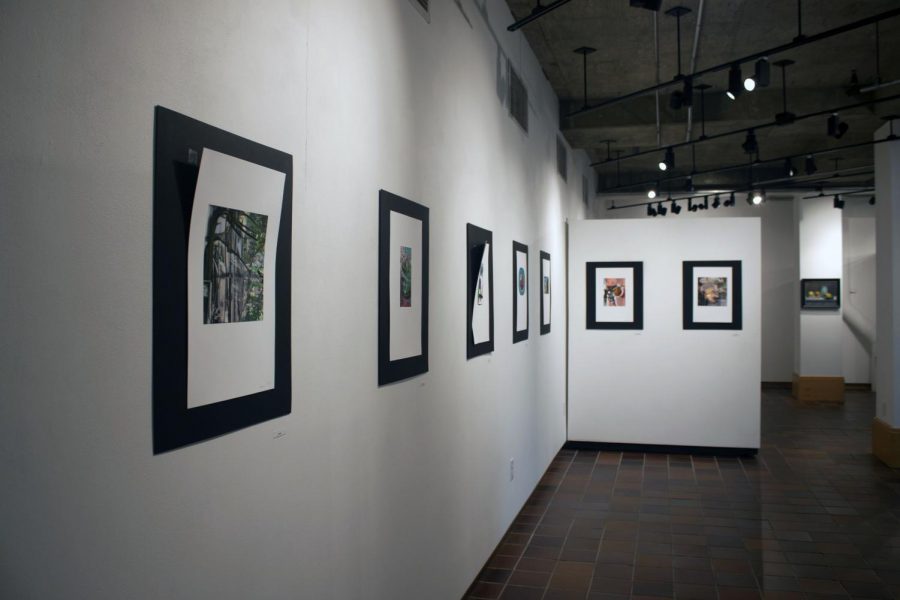 Elizabeth Trevathan
From animations to portraits of fruit and everyday objects to paintings of women and collages, the alumni exhibit reaches to broaden and expose artists in current classes to the unique ideas and executions of the artists who were in their place years prior. The All-Alumni/ae Art Show opened Sept. 6 and runs through Oct. 18.
Fine Arts Department Chair, Daryn Lowman said, "The gallery is the performance space for the visual arts." 
Every year the Harry M. Drake gallery starts the school year with the alumni/ae exhibition, coinciding with Alumni week. Each piece is from a student who participated in the Senior Art Seminar course during their time at SPA, and only work from certain graduating years are on display. This year, artists include graduates from years ending in nine and four: Victoria Guest '14, James Vose '69, Sally Duback '64, Kevin Sudeith '84, and Ruth Schilling Harwood '69.
Each exhibition is visited by art classes. 9th-grader Leni Nowakowski visited the exhibition with her ceramics class.
"It was really cool to see the different styles of art in the gallery," Nowakowski said. "I personally liked the animated videos because I don't usually think of that as art but it was interesting and cool to see that kind of art form."
The wide variety of art forms, from animation to painting, are grouped together by aesthetic, but their content has nothing in common: a dragon, skeleton hands, fruit, and pregnant woman. Even though the exhibition covers a span of 50 years, the modernness of each piece pulls them together. The timeless portraits of fruit reside with the animated dragon easily.
This is what the art department is determined to do with each alumni/ae exhibition.