[ALBUM REVIEW] Louis Tomlinson releases first solo album "Walls"
For the first time since leaving One Direction, arguably one of the most popular boy bands of the last decade, Louis Tomlinson released his debut solo album Jan. 31. Tomlinson is the final member of One Direction to release solo music, so this new album is Tomlinson's first step in the right direction. 
The album, Walls, is about Tomlinson's life since leaving the band back in Aug. 2015. In contrast to many of today's pop albums, Walls features no collaborations with other artists, making Tomlinson's first solo album maintain the focus on him. The style of Walls is similar to that of other One Direction albums, but with more depth and maturity in the tone and especially in the lyrics of each track. 
"Don't Let It Break Your Heart" is a step away from One Direction, featuring a lively, steady bass line throughout the entire track. Another great track from the album is "Defenceless", which also features a prominent bass line as well as upbeat drumming. A standout line from the track is "You just keep building up your fences / But I've never been so defenseless" This line shows Tomlinson's emotional growth since leaving One Direction, and his newfound ability to be vulnerable, something uncommon among today's popular male artists. The best track from Walls is "Habit"  which features only guitar and drums; likewise, "Habit" is the furthest from the infamous One Direction-type genericness and artificial lyrics. "I always said that I'd mess up eventually / I told you that, so what did you expect from me?" is the opening line of "Habit" These lyrics are not only relatable to people of all lifeways, but it also has a well-developed rhyme scheme, for each line has twelve syllables. 
"
The style of Walls is similar to that of other One Direction albums, but with more depth and maturity in the tone and especially in the lyrics of each track. 
"Always You" is by far the worst track on the album. Tomlinson describes someone he just can't get over, "I went to Tokyo to let it go / Drink after drink but I still felt alone / I should've known". The last thing that the pop music industry needs is more songs about people traveling around the globe to forget about their significant, or former significant other. Not only is that topic cliche, but it is also not an accessible topic for the audience. "Always You" is basically a One Direction song, but with more mature themes and with only Tomlinson on the vocals. In a very close second is "Kill My Mind". This track does not at all fit with the narrative of Walls. The instrumentals are hugely different from all of the other songs, which are all somewhat cohesive. One of the first lines of this misplaced track is "You're a total distraction / While I'm waiting for your reaction". Like every other aspect of the song, the rhyme scheme makes each approaching line too predictable which makes the song too simple. 
Overall, Walls is a good first step for Tomlinson. Although there are a few tracks that are misplaced, an overwhelming number of tracks fit perfectly together. The lively and original bass lines are a recurring theme in each track, and are all quite enjoyable. 
Walls is for fans of pop music that are looking for more meaningful lyrics and a more relaxed vibe. Walls is a good album, it is a solid 3 out of 5 stars. There is definitely room for improvement in the future, but there are also several well-produced tracks with relevant lyrics.  
Rating: ★★★☆☆
Leave a Comment
About the Contributor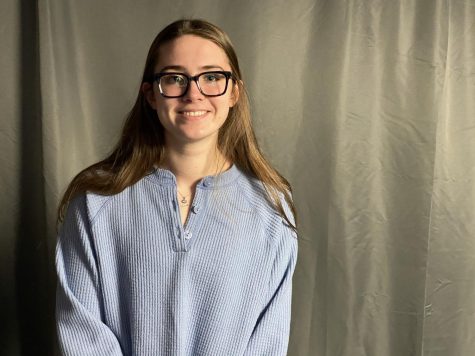 Alexandra Cardwell, Opinions Editor
Hi! I am Alexandra Cardwell. I am a co-Editor of the Opinions section for the 2022-2023 school year. This is my fourth year on staff, and in the past I...