[ALBUM REVIEW] Anderson .Paak's new album is a classic
Anderson .Paak has been well known in the R&B scene for years, since his release in 2012 of O.B.E. Vol. 1 under a different moniker: Breezy Lovejoy, and with Venice, his first album as Anderson Paak in 2014, and has featured on many of the biggest tracks such as "Bloody Waters" with James Blake and Ab-Soul on the Black Panther soundtrack, and his own release, "Tints," with Kendrick Lamar. He has managed to create an original sound of his own; a scratchy voice over an upbeat and chill jazz instrumental. His most recent release on Apr. 12 of his fifth album Ventura is nothing short of that but shows his evolution as a musician with a slightly more trendier and groovy touch. The album was released on the day of Paak's week one Coachella set, and features many iconic 00's and 90's musicians such as Andre 3000 of Outkast, Jazmine Sullivan, and Brandy.
"
Anderson Paak is a key figure in the music world."
Paak starts of the album with what is easily one of the best songs off the album: "Come Home," which features Andre 3000. His verses on the song as well as that of his backup singers are soothing and a great way to start an album, but Andre's comedic verse is definitely the standout part, with lines like "I'm a nerd, study you, what are you, WWF? We fightin', we might need counseling, possibly more so me." A feature as iconic as this shapes the song by showing what will be on the album: soulful jazzy instrumentals and vocals along with the subtle spitting of flames here and there, and although it is nothing too different from what Paak has done in the past, the sound seems to never get old.
The second track is also one of the best tracks off the album. As most second tracks are, it is the most popular on the album according to Spotify's demographics. "Make it Better," featuring Smokey Robinson, a prolific musician who started his career in the 70's and even continues, garnering tracks with Elton John, Miguel, and John Legend on his most recent 2014 project Smokey & Friends, and now this year with Anderson Paak. This track is different from Paak's typical style; it reminds you of a classic 50's movie soundtrack, with the strings and a more cheerful vibe. Robinson's only lines seem to be his "do you wanna make it better"s, but his tone and background help give the song the old vibe that it possesses.
https://www.instagram.com/p/BwS0952nNk0/
The rest of the album continues; the third track, "Reachin' 2 Much," featuring Lalah Hathaway is emphasized by Paak's trademark sound – it is a track that describes his sound the most; scratchy but soothing, followed by the fourth track "Winner's Circle," which is the first instance of Paak rapping on the album.
Arguably one of the best songs on Ventura, "King James," was the first single off of the album, and reasonably so. The song serves as an ode to legend Lebron James, who many people idolize because of his ability to overcome many obstacles set in his way, even from a young age. Paak's music is written from the emotional perspective of a black man in America, but this song also touches on the oppressions of other minority groups, talking about religious controversy ("cold stares can never put the fear in me, what we built here is godly"), and especially focuses on the Mexican border wall.
"
[The album has] soulful jazzy instrumentals and vocals along with the subtle spitting of flames here and there, and although it is nothing too different from what Paak has done in the past, the sound seems to never get old."
The 11th track, "What Can We Do?," featuring Nate Dogg, concludes the album very smoothly. It starts with what is either a warped guitar or an instrument like the sitar, and keeps a western vibe and cheerful vibe, the chorus not unlike "Make it Better." Nate Dogg changes the vibe slightly by belting verses that lean more towards R&B than the jazz and folk influences the song seems to have. The end fades out a bit, and is replaced by a tape of the two musicians talking. The conversational audio in some songs can be a stretch and overdone, but this concludes the album nicely and is more on the humorous side, like Andre 3000's rap was at the end of the first song.
The rest of Ventura is as good as the tracks mentioned here, with the Jazmine Sullivan and Brandy features. There are also features from other artists: Sonyae Elise and Nate Dogg. Although Paak's style is more modest and not as dramatic (which isn't a bad thing) as other artists similar to him, it was hard to tell that there were features in some songs; were they just background vocals? This rang true especially with "Make it Better," and the Jazmine Sullivan and Brandy features ("Good Heels" and "Jet Black," respectively) – seeing the names in the title of the songs built more anticipation than was fulfilled.
Overall, Ventura is a great album, further proving that Anderson Paak is a classic. All of the songs are not too different, which can be a hit or miss, but they contrast with each other well enough to not all sound the same and to be too much of a bore. Anderson Paak is a key figure in the music world.
About the Contributor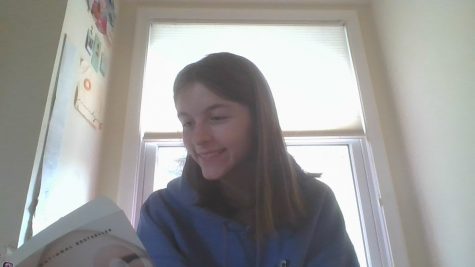 Lynn Reynolds, Opinion Editor
Lynn is the Opinion Editor on RubicOnline. This is her third year on staff. Lynn has kept herself busy during the pandemic by reading and biking a lot....