Circus Juventas performers prepare for 1001 Nights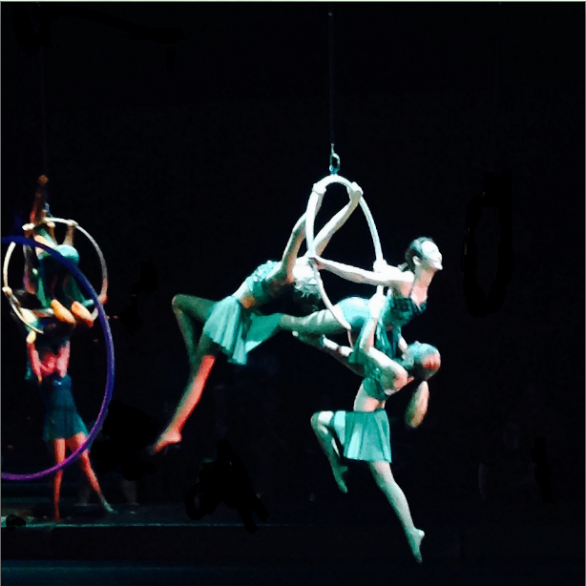 Ladies and gentlemen, boys and girls, prepare for the most amazing, spectacular, death-defying performance you have ever seen. The summer Circus Juventas' show 1001 Nights features the circus' most advanced performers under the tent Jun. 31-Aug. 16.
"They are so athletically and artistically talented," junior Michelle Heilig said. "A lot of the time circus people are passed off as clowns, but they are seriously strong."
Heilig has been involved with Circus Juventas for several years.
Freshman Marlo Graham will be performing in the summer show for the first time this year, although she has been involved in Circus Juventas for nine years and performed numerous acts in all three versions of the spring show this year.
About circus, she said "It's a lot [of work], but it's fun."
In the summer show, Graham will be performing in bike, dance, and theatre acts. The show has eighteen performances with as many as seven performances a week and sometimes even two a day, and missing performances is not an option.
Preparation for the show starts nearly a year before the show. "I just had auditions for the summer show of 2016," Graham said. "We start learning new tricks for the next year two weeks after the shows are over."
Audience members agree that the show certainly is fun to watch. "It's really entertaining and crazy good," freshman Naya Tadavarthy said.
Tadavarthy has performed in the spring show since she was three years old and goes to the summer show every year.
"There are lots of new acts in the show every year," Tadavarthy said. "You have to be really brave to do some of the acts."
Heilig attends the summer show on a yearly basis. "I love watching silks, triangle trapeze, and teeterboard, but really you can't go wrong with any of the summer show acts," Heilig said.
Audience members who have seen the spring but not the summer show can expect a big production, with more of a storyline than the spring show.
"The August shows have a plot and characters, which the May shows don't have," Heilig said.
This summer's performance is 1001 Nights, and tickets can be bought on the Circus Juventas website starting June 29.
About the Contributors
Dianne Caravela, Feature Editor
After spending last year completing Writing for Publication I and II and working as a staff writer for The Rubicon, sophomore Dianne Caravela is super...
Marlee Baron, Managing Editor
Senior Marlee Baron is looking forward to her fourth year on staff and her first year as the managing editor for The Rubicon. She has previously worked...