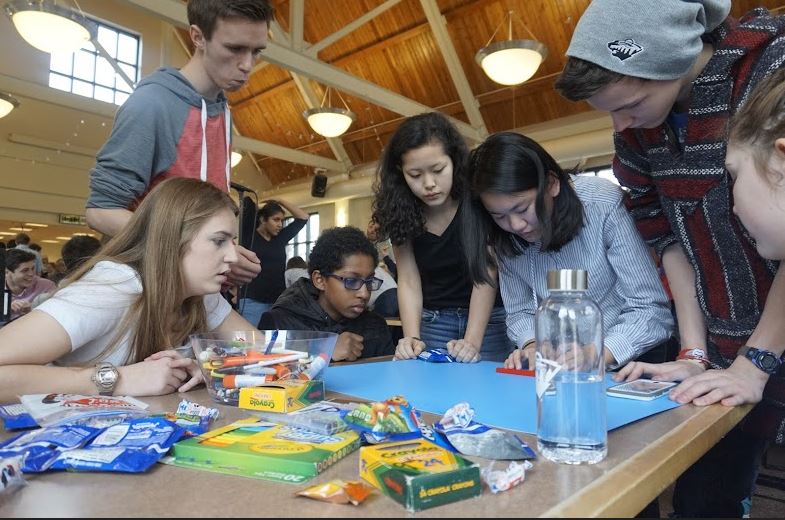 Diane Huang
Imagine a world with complete gender equality: men and women are educated at the same levels and rates across the globe, the amount of female and male leadership are equal, and gender discrimination and sexism are extinct. While this world is clearly far from the current reality, on March 8 and 9 it came a little closer to existence with St. Paul Academy and Summit School's celebration of International Women's Day.
Established in 1976 by the United Nations, the theme of this year's IWD was "Planet 50-50 by 2030: Step It Up for Gender Equality", a nod to the UN's goal of ending gender inequality by the year 2030. A plethora of events took place on this day as a way to spread awareness about women's issues, including some at SPA.
On Mar. 8, Affinity Group Herspace held a bake sale to benefit the Swim for Survivors organization, the founder being SPA alumni Ceallach Gibbons. In addition, a poster-making contest was held.
Gender in Literature teachers Kathryn Campbell and Emily Anderson and History of Women in the World teacher Nan Dreher planned an International Women's Day poster contest Mar. 9.  The purpose of the event?  "To get the community thinking creatively about women's issues by starting informative, global conversations," Campbell said.
Held in the cafeteria, the space filled with loud music and big ideas, 27 advisories addressed topics ranging from rape as a war crime, to the art activism of the Guerrilla Girls, to gender issues in the 2016 presidential primaries.
Posters will hang on the lower library windows through the end of March.  Students will be invited to vote for a People's Choice award, and posters will also be judged by an outside panel of teachers whose advisories did not participate.  Winners will be announced after Spring Break.
But Campbell said that the big win was, "Having such passionate and active participation.  The idea wouldn't have been anything without the student investment in the activity."
The trio hopes to make this an annual event.
Check out Diane Huang's full photo gallery on Facebook.