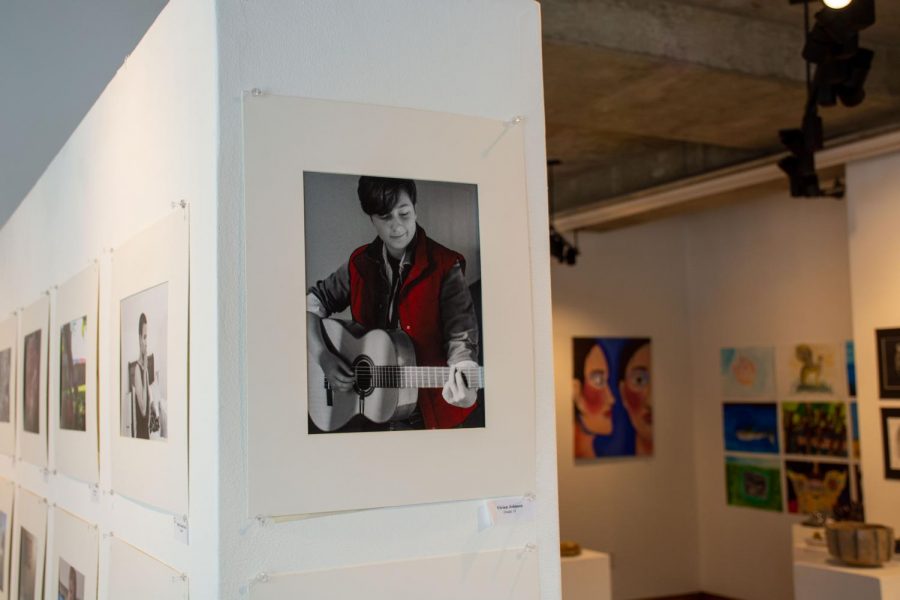 Henry Burkhardt
Drake Gallery is filled with art made by students from every grade in a variety of different mediums. Art featured in the gallery ranges from photographs to ceramics and even includes student-produced videos. Every student who participated and produced work in an art course during Semester I is featured in the exhibition. 
Sophomore Annika Breslford has work displayed in the gallery: "I liked being featured in the art show because it gave my art a chance to be seen by more than just my painting class, family, or friends," she said. "Having it hung up in the gallery invited many more people to talk with me about it than ever before and that was exciting, to say the least."
In addition to inspiring conversations, the exhibition also supports student artists through the feeling of pride students feel at having their work displayed.  
Junior Jonas Bray has one of his photographs featured in the gallery. He too was thankful and proud for the opportunity to display his work in the community.
"Seeing my art hanging on the walls of the gallery instills a feeling of pride in me, by displaying my work the school gives artists a voice in our community," he said. 
Breslford was especially excited about the discussion and support provoked by her art. "I love discussing art and the choices behind pieces," she commented, "So the fact that people (students, teachers, staff) went out of their way to compliment me or talk with me about my portrait after seeing it in the exhibition meant a lot for me as a young artist."
Bray also found inspiration to keep creating photography from the show: "It also keeps me motivated to continue pursuing the things I am passionate about." 
Brelsford also recognized the novel awkwardness that accompanies displaying a huge self-portrait painting.  "Sometimes, it felt a little weird to have my painting there," she said, "because my piece is just my face…. and I don't know… it's just kind of awkward."
Awkward or not,  attending the exhibition is a great way to support student artists and the art they create. The Student Art Exhibition will remain in the Drake Gallery for the remainder of February.