A look back at Biden's first ten days
There was a lot of anticipation and excitement coming from Democrats as President Joe Biden watched fireworks from the White House at the end of the day-long inauguration events. After four years in which former President Donald Trump and the Republican Party sat in charge of the executive branch, the Biden administration arrived along with a Democratic House and Senate majority with plans of reversing many of the changes that were enacted under Trump. Now, ten days out of the all-important first 100 days of a presidency have passed, providing a good time to look back at the important policies and executive actions that have been completed so far.
Day One:
Rejoined the Paris Climate Agreement that Trump had pulled out of in 2017.
Stopped construction of the Keystone XL pipeline drawing criticism from Canadian PM Justin Trudeau.
Halted construction of U.S. Border Wall on the U.S./Mexico border.
Required masks on federal property.
Rejoined the World Health Organization.
Ended ban on immigration emplaced on seven countries by the Trump administration with Muslim-majority populations.
Day Two:
Announced multiple executive orders with the intention of curbing COVID-19 cases and more effectively distributing vaccinations.
Created team to develop guidelines for how to return to in-person schooling permanently.
Day Three:
Formed plan to assist 2 million veterans with debt.
Announced unemployment insurance for those who decided not to work because of COVID-19 fears.
Day Four:
No executive action.
Day Five:
No executive action.
Day Six:
Brought back COVID-19 travel bans, this time focusing on travel from Brazil and the rest of South America.
Repealed Trump administration ban on Transgender members in the Armed Forces.
Day Seven:
Called for promotion of fair housing policies.
Announced plans to move away from private prisons.
Called for better relations with Native American tribes and U.S. Government.
Suggested to add culture sensitivity and anti-discriminatory laws for Asian Americans as part of COVID-19 response.
Day Eight:
Announced Climate task force.
Focused on strengthening the connection between policy and scientists by saying he will listen to members of the Council for Science and Technology.
Day Nine:
Reinforced Obama's health policies of the Affordable Care Act.
Day Ten:
No executive action.
After the first ten days of the Biden administration, students have many thoughts and opinions about the executive action taken thus far.
"I think it has been a good start for Joe [Biden] so far," Senior Milo Waltenbaugh said. "He has been able to immediately tackle a lot of important issues and I really liked that he rejoined the Paris Climate Accords because I think it will help fight climate change and mend some of our alliances."
Senior Christian McGlynn said, "I'm glad that we rejoined the Paris Climate Accord, and I hope that Biden will continue to work on more initiatives for Climate Change while also working to increase vaccine rollout to fight COVID."
"I would describe the first ten days of Biden's presidency as being calm and productive, relatively speaking," junior Emily Gisser said. "Obviously, the new administration hasn't resolved every single problem the country's facing right now, and I still think there's a long way to go in some areas, like pandemic relief, systemic racism, and climate change. But I'm definitely optimistic."
Since the start of the administration, Biden has followed the trend set by former presidents Barrack Obama and Donald Trump of using executive orders and power to bypass congress.
McGlynn said, "I really like many of the things that Biden has done, but I think that his broad use of the executive orders is concerning."
So far, Biden has exceeded the amount of executive orders signed by Trump and Obama combined in the first ten days and it is likely that this number will only increase as Biden further turns his attention to COVID-19 related matters this coming week.
Overall, Biden's first ten days have included 10 presidential memos, 4 proclamations, and 25 executive orders giving him a busy start to his presidency.
Leave a Comment
About the Contributor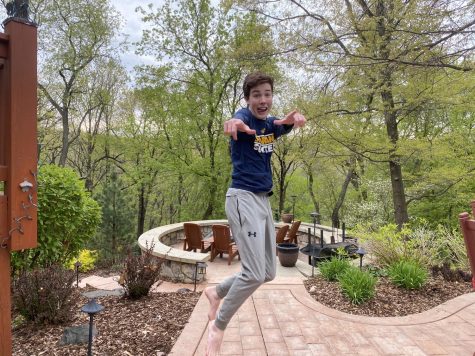 Bobby Verhey, Rubicon TV Executive Producer
Bobby Verhey is the Rubicon TV Executive Producer on RubicOnline. This is his fourth year on staff, previously working as the Sports Editor and Social...