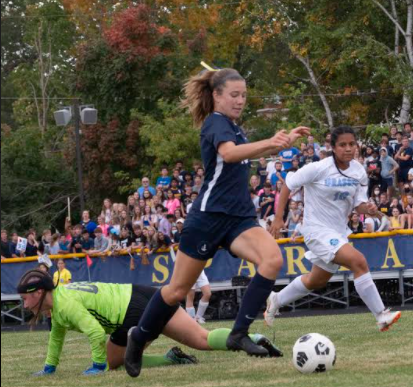 Submitted by Naomi Straub
Sprinting, kicking, and defending are daily pursuits for Senior Naomi Straub. Straub has been named the Athena Award winner for 2022. Given to female student athletes in the Twin Cities who show outstanding performance, dedication and talent in athletics, the Athena award is a significant accomplishment. As the fourth Athena at SPA, Straub is a perfect fit.
Straub is a strong athlete in soccer, basketball, and track and field. She is a captain of all three teams, and will be continuing soccer at Carleton College.
Straub started soccer when she was three years old, and though first prompted by her parents, she quickly took over the reins and kept going. By high school she was pursuing it more seriously both through school and club soccer on the St. Paul Blackhawks Premier Team. She has been on varsity for four years, won the Rookie of the year award in 9th grade, won All-conference three times and All-State once this year.
Straub would consider soccer to be her main sport both because of the many years she has been doing it and her connections to her team. "Because soccer really is a team sport, you build a lot of connections," Straub said. She has known some of her teammates since she was seven years old, so her friendships through soccer are valuable ones. "It's also fun," she said, "when you play a sport with your friends."
Soccer has not come without challenges. Straub has had to overcome a variety of injuries ranging from sprained ankles to repetitive stress injuries. While her injuries haven't been major ones, they are still frustrating. Despite the difficulty, Straub has successfully overcome these challenges. "Take it one step at a time," advises Straub, "focus on what you can do and do that."
As for her other two sports, Straub started basketball in 9th grade, and track in 10th grade. Last year she won the All-Academic Team Silver Award in basketball, and ran a 13.97 seconds in the 100 meter dash, putting her 7th all time at SPA.
Balancing all three sports and a full workload at school has also been a challenge throughout her years in high school. "It gets to be a lot sometimes," said Straub. Since she plays soccer all year round–even while playing her other two sports–finding time to relax or even getting all of her homework done can be hard. To combat the busy schedule, Straub sets aside downtime. "I make sure I have time to relax during those seasons," she said, "it is something I have had to learn how to do over the years."
Straub is grateful for her award, but conscious of others' accomplishments as well as her own. Straub says, "I was kind of surprised at first, but I am happy that I got it because I put a lot of time into the sports that I play." Because sports are such a big part of Straub's life, becoming an Athena is a rewarding accomplishment.