Boys tennis battles cold and wet conditions, cancellations
Boys varsity tennis has been battling with rained-out practices, windy courts, and frigid temperatures ever since the team held tryouts the week after spring break. Nearly a month later, K-12 athletic director Dawn Wickstrum noted that many of the called-off matches are irreparable.
"We're now at a point where if we cancel more competitions, it's likely we're not going to be able to reschedule because the calendar is not going to allow it. And the fact that we're knocking on May's door makes it even more challenging," she said.
While April weather in Minnesota can and usually does fluctuate, the snowfall, rainfall, winds, and temperature are significantly more intense this year than the team's previous season.
"I feel like last year we kind of got lucky with how warm it was," said Captain Leo Benson. According to Wickstrum, anything below 40 degree weather is uncomfortable to play in, especially considering the fact that holding rackets with gloves is a challenge. Benson explained the importance of preparing for lower temperatures—layers, hats, and properly warming up is essential. Additionally, the wind screens surrounding SPA's tennis courts help to curb some of the chilling breezes.
"We played outside yesterday and it was bad at first but once you warm up it gets much better. People have trouble with their hands because a lot of people think it's annoying to play tennis wearing gloves. So your hands get pretty cold. But other than that once you get moving, it's not that bad," captain Harry Mahmic explained.
Considering the team is shooting for state this season and is confident in the abilities of their underclassmen-dominated team, the impacts of the weather have been exceptionally disappointing. However, with coach Viet Pham's connections to thank, boys varsity gennis has been fortunate enough to practice on Baseline Tennis Center's courts in the case of canceled practices. Located on the University of Minnesota campus, these indoor courts allow practices to run similarly to standard outdoor practice: warm-ups followed by a series of drills. However, the primary drawbacks are that there is less court space available than the 12 courts at the Randolph campus, and that indoor practices fail to prepare players for the outdoor conditions of actual matches.
As far as how coaches and the athletic department determine when to cancel a practice or match, there are generally two factors involved. The first is court wetness, because if balls are collecting water as they bounce on the court, they don't behave like dry balls would. Courts can also become slippery and unsafe if too much rain or snow is collecting on them. The second is temperature and wind levels because playing in extreme temperatures can become dangerous without proper clothing. Wind can impede playing by derailing the trajectory of tennis balls in a given rally.
"Reid Johnson, who kind of oversees our grounds, will tell us whether or not he feels they are playable, and then we'll coordinate with the coaching staff too because sometimes if they really want to sneak one in and we feel it's safe enough, you know, they know our kids well. So they would understand the environment they can play in," Wickstrum said.
Regardless of the unusual tribulations of weather, team captains plan to continue building team spirit and developing the younger players' skills.
"We want to kind of instill the values that were passed down to us when we were younger
on the team … hard work, dedication, sportsmanship, you know, respect for your captains, for your teammates and for your coaches, and of course, having fun," Mahmic said.
Captains Benson, Mahmic, and Maik Nguyen, as well as coaches Pham, Max Hommeyer, and
Luke Elifson will continue to grow each team member's skill levels for the remainder of the season.
"We have a lot of big goals this year. We feel that we're a really talented team, and we're young and we're definitely hungry this year. We think that we could definitely have a shot at making it pretty far in the state tournament … we're gonna try to do our best to get to our goals," Benson said.
Boys varsity tennis's next match is Monday, May 2 at 4:30 p.m. against St. Thomas Academy at the Randolph Campus.
Leave a Comment
About the Contributor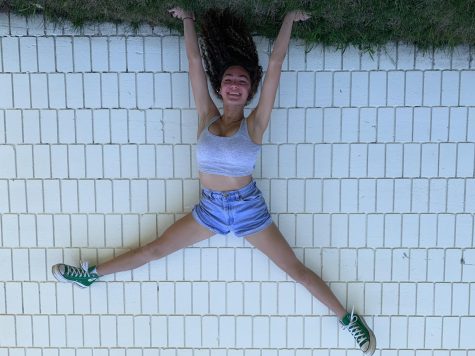 Clara McKoy, A&E Editor
Hi! My name is Clara McKoy (she/her)! I am currently one of the A&E editors for RubicOnline, and this is my third year on staff. I was both a staff...