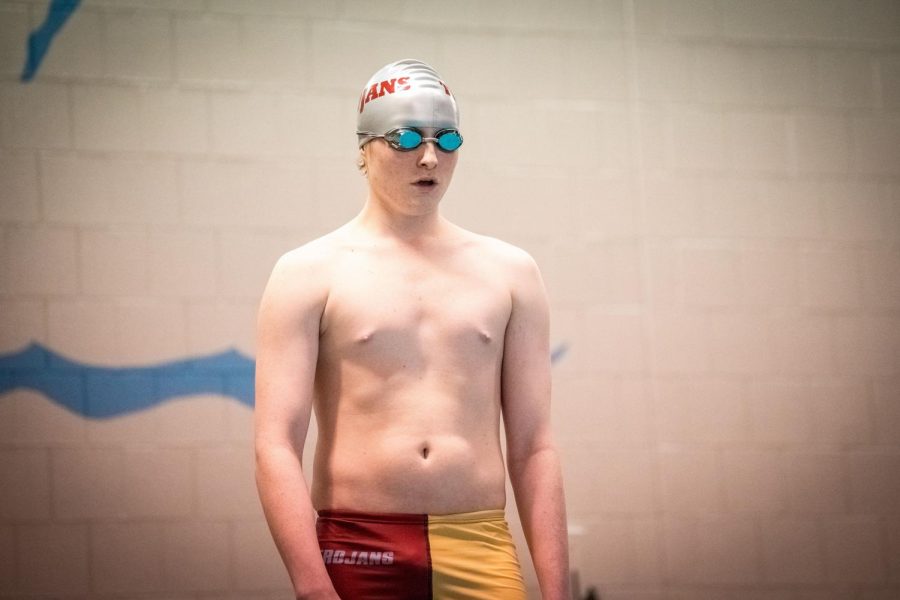 David Matenaer
Junior Sutton Lillygreen has swum since the age of 7 and his love for the sport has only grown since.
Q: What is your favorite swimming stroke?
A: My favorite swimming stroke is freestyle, because I can go long distances while also going fast.
Q: When did you start swimming?
A: I started swimming when I was 7 at the Swim Club in the Town and Country club. I didn't love it when I started, but now it has become my sport and I love it.
Q: When did you join the school team?
A: I joined the school team my freshman year, because I have never really been good at traditional sports such as football or basketball, so I thought I would give it a try.
Q: What is a common misconception about swimming?
A: A lot of people think that swimming is very easy because anyone can swim a couple of laps in a pool, but during a meet, the stakes are a lot higher and it is a lot higher than most people believe.
Q: Who is your swimming idol?
A: My swimming idol is Michael Phelps, I have always liked watching the Olympics to see him compete.
Q: What race do you primarily participate in?
A: This season I am hoping to primarily compete in the 100 meter freestyle swimming race.
Q: What is the biggest race you have competed in?
A: In 6th grade while I was swimming with the town and country club, I competed in an important race at Saint Catherine's University and I finished in first place.
Q: What is a lesson swimming has taught you?
A: Swimming taught me to love what you're good at, this summer I had a hip surgery, so while I was recovering I realized how important swimming is to me, and that is a big part of my life.
Q: What is the team environment like?
A: The team provides a fun community, mixing with Highland and SPA. Similar to Wolfpack, the mix of schools provides a fun environment of success, and everybody is very inviting and friendly.
Q: How do you think COVID-19 will affect your season?
A: Due to COVID we will have a shorter season, but the biggest change is that our competitions will be individually recorded at everybody's team pool, meaning that we will have to adjust to this new style of competition.