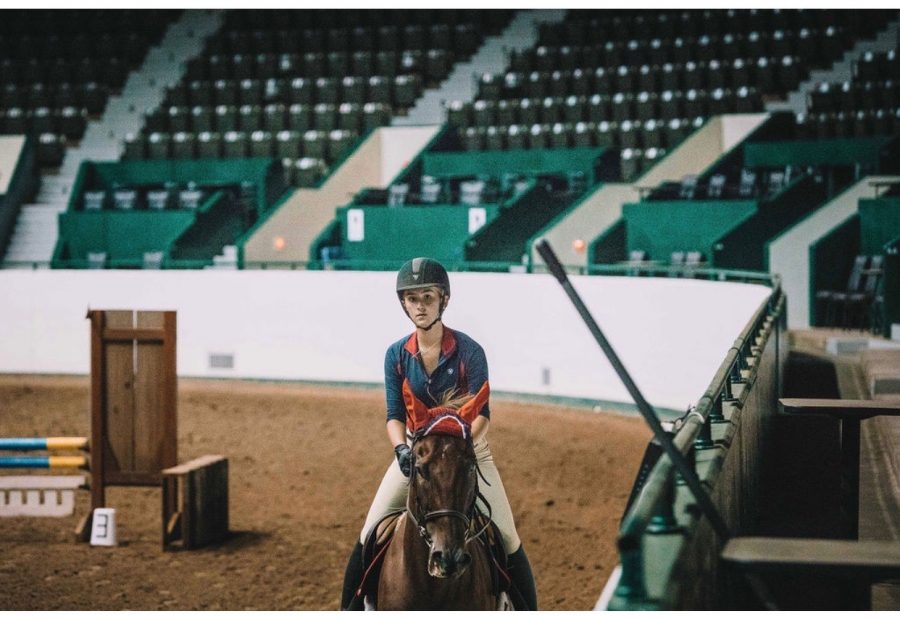 Photo submitted by Saffy Rindelaub
Junior Saffy Rindelaub has been riding horses since she was young, participating in many horse shows such as in the state fair this past summer. She answered questions about the sport:
Q: How did you start horseback riding?
My grandma inspired me because she had a horse when she was younger.
Q: Do you have your own horse? How did you get your horse?
Yes, my trainer introduced me to him.
Q: Where do you go to practice riding?
I usually go to Serenity Farm.
Q: What has horseback riding taught you?
It has taught me to be responsible and how to take care of my own horse.
Q: What competitions do you participate in?
I have participated in local horse shows at other barns and the state fair.
Q: What is your proudest moment from horseback riding?
 I really enjoyed winning reserve champion my first year at the fair.
Q: How did you get involved in the horseback riding community?
My dad is friends with my trainers fairer.
Q: What is your favorite thing about horseback riding?
I enjoy spending time with my friends and my horse.
Q: Who do you ride with?
I usually ride with my friends that ride at the same barn as me.
Q: What would you tell someone trying to get into the sport?
[Horseback riding] is a really fun sport; however, it is a time commitment that you have to be ready to make.