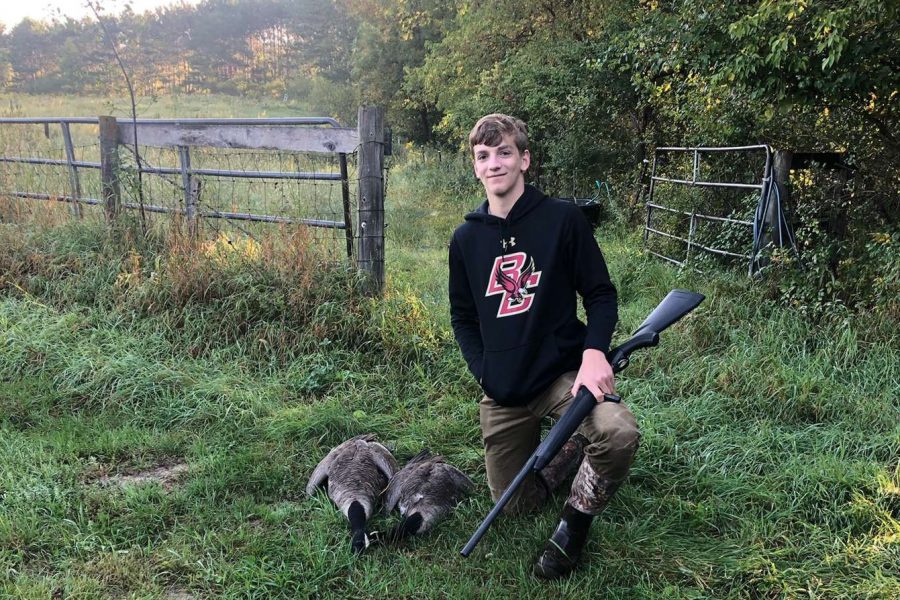 Photo submitted by Eric Bottern
Why did you first get into hunting?
I first got into hunting when my dad took me pheasant hunting when I was around 10 years old from there I got back into it freshman year of highschool going duck hunting.
Where do you go most of the time? How did you find out about it? How many different places do you go?
I usually go hunting in the outskirts of the suburbs, or Marshall, MN. It varies year to year where I go, and mainly I hear about these places from other people.
What has hunting taught you?
Hunting has taught me the beauty of nature, and how precious life is. 
Do you ever go with other people? 
I go with my dad most of the time and also SPA alumni Riley Tietel. 
What does your schedule look like with the entire process of going hunting?
It consists of waking up very early in the morning, but I also have to get everything ready the night before. If I'm waterfowling I'm engaged in that from 5-10, but only hunting from 7-9.  
What is your proudest moment from every experience you have had hunting?
My proudest moment is when I shot my first double on geese, it was pretty sick to see them both drop at the same time.
How did you get involved in the hunting community?
I get involved in the hunting community on social media and just finding people with the same shared interest. 
What is your favorite thing about hunting?
My favorite thing about hunting is right before sunrise when the light is shining over the water and it is completely silent.
How does hunting impact your life with school, sports and friends?
During the winter season I have less time to go hunting because of sports, and because of schoolwork and everything I don't get out nearly as much as  I want to. 
What would you tell someone trying to get into hunting?
Find a friend who has been hunting and ask to tag along, because most likely they will help you get into it.