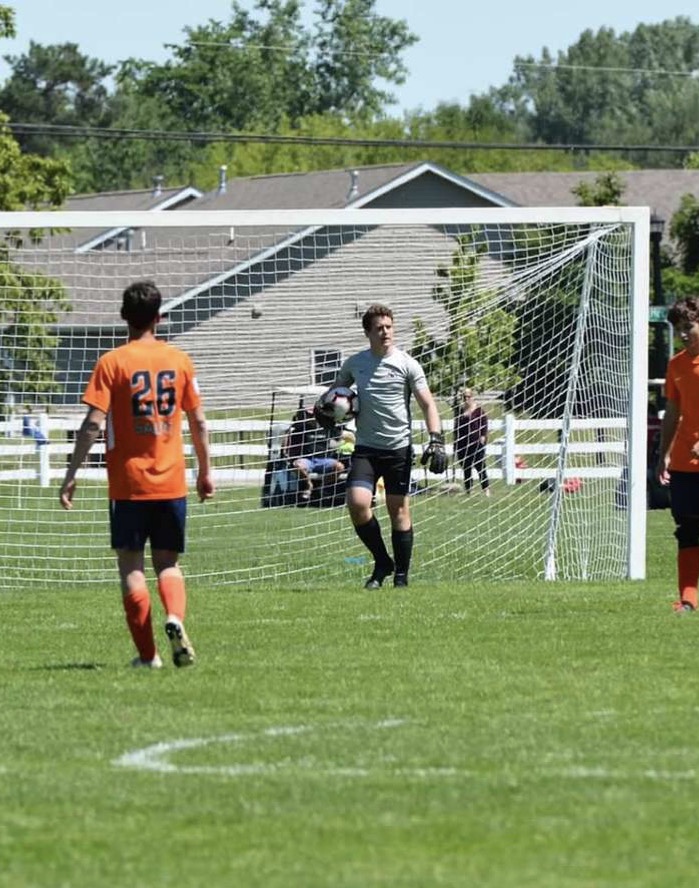 Junior Jacks Biggs has been playing soccer for as long as he can remember. Keep scrolling to read the ten-question interview with the soccer extraordinaire.
How/why did you first get into playing club soccer?
"I got into playing club soccer when I was four. I liked playing goalie in my back yard with my neighbors so my parents signed my up for club and I have played ever since." 
What do you do for soccer? How much work is it?
"I play goalie and play for Salvo SC. I practice about 3-4 times a week all year. It is a lot of work but it is also nice because it forces me to work out and stay healthy which helps me to be more focused on my academics when I need to." 
What has playing club soccer taught you?
"It has taught me how to multi-task and how to balance my time and use it efficiently. It has also taught me how to work hard and what it takes to keep playing at the top level."
Do you play with your friends? Have you been able to make new friends easily?
"On any team, there will be people you're not close with but because you're forced to work with each other so often you are able to bond over the love of the sport if nothing else. I still have friends with friends and coaches that I haven't played with for over four years."
Do you play in big tournaments? What do you do for those? 
"I do play in big tournaments. For big tournaments, I have to travel which can be taxing on me and my family. While they can be stressful, they also create the greatest memories with your team and a lot of unstructured time with my family which allows you to bond with your parents in a way that you don't get to at home with school and work."
What is your best memory from every experience you have had playing club soccer?
"My best memory is when I was an 8th grader on the varsity soccer team. It was a great memory because I had the experience of being around and accepted by a lot of older guys. This was special because everyone on the team was incredibly nice to me and taught me the environment I try to now that I am an older member of the team."
What is your favorite thing about playing club soccer?
"Being able to dedicate myself to my favorite sport year-round brings me a lot of gratification."
How does it impact your life with school, sports, and friends?
"It takes a lot of my time and makes it hard to hang out with my friends every weekend. School is hard but working out 3-4 time a week makes me focused when I have to work."
What would you tell someone trying to get into playing club soccer?
"Do it its a lot of fun and anyone can find a good team to be on it is 100% worth the effort."
How has playing club soccer changed you as a person?
"It has made me a lot healthier and also taught me how to work hard and I have been able to use both of those in my everyday life."
Check out more 10 QUESTIONS here.