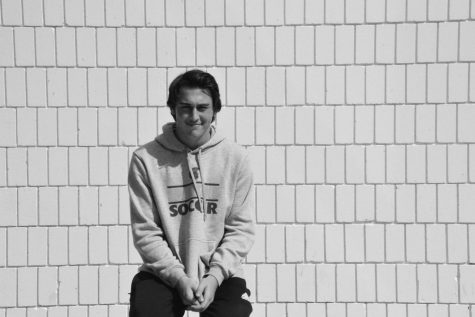 Michael Forsgren enters his junior year and second year on the 
RubicOnline 
staff ecstatic to take on his new role as Social Media Manager for 
RubicOnline. 
Forsgren served as one of two Sports Editors last year on the 
RubicOnline 
and before that worked as a staff writer for the publication. Forsgren strongly believes that through social media and online reporting, St. Paul Academy as a school is connected constantly and tightly. Forsgren also believes that online reporting and more modern forms of reporting have become an essential part of life as a student and that working for the 
RubicOnline 
website is a huge honor. Whenever Forsgren takes a step back from journalism, he serves as junior captain on the boys varsity soccer team, a junior class representative for the Students Activity Committee, and an upper school club president of Sports Forum. In his free time, Forsgren is always playing soccer and eating snack foods. Forsgren is the proud owner of five different dogs and has a strong love for animals, as he has fifty seven different favorites. If Forsgren were able to work his dream job, he would be a psychiatrist. Forsgren can be contacted at rubicon.spa@gmail.com.
Michael Forsgren, Social Media Manager
Jun 01, 2018

Boys hockey players push forward after departure of Head Coach Funk

(Story)

Apr 11, 2018

[ALBUM REVIEW] The Weeknd utilizes all his artistic talents to perfect "My Dear Melancholy,"

(Story)

Mar 09, 2018

Migos Trio: Who is the best Migos?

(Story)

Feb 28, 2018

Movie ratings consistently become more harsh in the modern day

(Story)

Feb 25, 2018

The chance to donate blood should not be wasted

(Story)

Jan 14, 2018

MLK Day assembly calls for equal education opportunities

(Story)

Jan 07, 2018

Recovery essential to injured student athletes

(Story)

Jan 05, 2018

[FILM REVIEW] "The Last Jedi" proves to be another visual masterpiece in the Star Wars saga

(Story)

Dec 02, 2017

Athlete's 10 Facts: Adam Zukowski

(Story)

Nov 10, 2017

CAS inspires commitment to community service

(Story)

Nov 02, 2017

[ALBUM REVIEW] 21 Savage and Offset's "Without Warning" steps listeners into the artist's violent and lavish lives

(Story)

Oct 07, 2017

Girls Varsity Soccer beats Northfield for a homecoming win

(Story)

May 12, 2017

REVIEW: Logic's

Everybody

fails to deliver correct messages about race

(Story)

Apr 27, 2017

SPA Thinks: How active should you be on social media?

(Story)

Apr 17, 2017

Students have their say in Common Ground meetings

(Story)

Dec 15, 2016

Jill Stein forfeits recount bids for 2016 presidential election

(Story)

Dec 10, 2016

REVIEW: The Weeknd disappoints "Starboy" expectations

(Story)

Nov 30, 2016

REVIEW: 24k Magic spells success for Mars' third pop album

(Story)

Nov 10, 2016

SPA Thinks: Lunch line budging needs to be cut out of student habits

(Story)

Oct 06, 2016

REVIEW: 'Perfect Illusion' not so perfect, still impresses fans

(Story)

Sep 02, 2016

REVIEW: Frank Ocean makes waves with his new album Blond

(Story)

May 31, 2016

Spartan's Baseball Wins a Smooth Section Game Against Trinity 5-4

(Story)

May 29, 2016

Alice Through the Looking Glass Feels Like A Waste of Time

(Story)

May 22, 2016

Freshmen enjoy freedom with new free periods

(Story/Media)

Apr 12, 2016

Varsity Baseball Starts Off the New Season With a Win

(Story)

Mar 15, 2016

The Witch brews up a rare, beautiful horror picture

(Story)

Mar 03, 2016

Cut policy allows pursuit of passions outside of sports

(Story)

Mar 03, 2016

To cut or not to cut? Two counterview points consider this sports team question

(Story)

Dec 18, 2015

Upperclassmen athletes mentor young, budding students

(Story)

Dec 18, 2015

Sophomores discuss and read classics in new book club

(Story/Media)

Nov 25, 2015

Boys Varsity basketball extends record to 2-0

(Story/Media)