[SPA HISTORY] Summit School: the beginnings, impact
Hang on for a minute...we're trying to find some more stories you might like.
In 1916 Woodrow Wilson was re-elected as President of The United States, World War I raged on in Europe, the Summer Olympic Games in Germany were canceled, and in White Bear Lake, Minnesota Alice Fraser Bigelow, Dorothy Noyes, Dora Sachs Sommers were discussing how they should form a school where their daughters could be educated. When the idea of founding an all-girls school was discussed, it was not intended to be the counterpart of the boy's school that inspired it. Rather, a completely different curriculum and set of activities was the basis of the new school, which aimed to prepare young women to be prominent members of society. Coursework was geared towards teaching the girls to have good manners, be polite and be proficient in writing and speaking both English and French. Former students rave about the amount and level of arts courses which were taught at Summit School. Physical fitness was also taught, although the focus was maintaining an attractive appearance. as it relates to their appearances.
Nancy Weyerhauser, a Summit School graduate from the class of 1949, remembers the coursework that she and her classmates had at school.
"
SPA was a tough, alpha-male environment. Summit was a different place than that"
— Dorothy Goldie
"Once a week we had a current events class. We, at an early age, had an appreciation and understanding of the world around us. During the war years there was lots of talk about that, so we were very aware of what was going on around us." Weyerhaeuser said.
That awareness led to action, as students put on several plays in 1917 and 1918 to raise money for several charities and causes.
Students had active social lives outside of their coursework. Clubs, plays, activities, and school assemblies all provided opportunities for the girls to pursue non-academic talents. Clubs were specifically important, as members would take part in special events and social gatherings. Community involvement continues to be a prominent part of the culture long after Summit School merged with St. Paul Academy in 1969, as clubs, student groups, and sports all provide opportunities for students to extend their involvement in the school beyond their required courses. Summit School hallmarked the idea that every community and every individual can be multifaceted.
"At Summit there was room for a lot of different kinds of girls. SPA was a tough, alpha-male environment. Summit was a different place than that. It was very hard and rigorous, but there was an incredible arts program. At SPA everybody had to play football, and everybody had to play hockey. At Summit there was more opportunity for self-expression. One of the enduring legacies of Summit School is the kind of school we have and the kind of curriculum we have. In terms of the notion that people have an obligation to the community for their education and are expected to be able to defend their ideas and express themselves. It was a lot more of a whole person approach to education," Dorothy Goldie, St. Paul Academy, and Summit School graduate from the class of 1973, and Director of Institutional Advancement said.
The skills once deemed necessary for a woman of society are the foundation of the curriculum at St. Paul Academy and Summit School. The curriculum focused on teaching the women to be knowledgeable about current events, as well as how to discuss them, have an appreciation for the fine arts and literature, and maintain a level of health and physical fitness. All of these things, especially discussion-based learning, are present in the curriculum of St. Paul Academy and Summit school today. The school and its curriculum can now be viewed as feminist and ahead of their time, however, this wasn't the aim. The main goal of Summit School was polishing young women to be educated and well-spoken wives and mothers.
"At Summit School, there was a particular vision of what an educated woman was supposed to be. The assumption was that you wouldn't work, but that you'd be a leader in your community. Today's school's roots are more in the Summit School philosophy of education. I don't see any residual aspects of St. Paul Academy." Goldie said.
The SPA HISTORY series will document the history of The Summit School, St. Paul Academy and the history of SPA's property ownership

About the Writer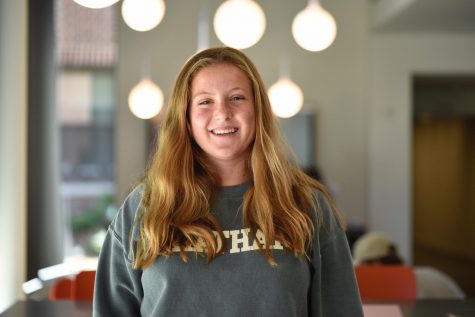 Ellie Nowakowski, Rubicon TV Producer
Ellie Nowakowski is the Executive producer of Rubicon TV. This is her fourth year on staff. She appreciates how journalism has the power to inform and...