Peer Helpers make relaxation during exams a priority
Hang on for a minute...we're trying to find some more stories you might like.
For a number of years, Peer Helpers, a selected group of students that are trying to help create a better environment for their peers, have been setting up a stress-free room during the exam week. The goal is for the students to be able to have a space to relax a little during the stressful period of testing.
It is sophomore Karla Garcia's second year as a peer helper."We really just want students to be calm during a stressful part of the year. During exams, students are always on high alert and trying to study every minute of the day. We provide a space that has food, games, and welcoming peers, to help them feel at ease," Garcia said. Peer Helpers has organized a room that will be full of comfort food, games, and an overall peaceful area for students to spend time in during exam week. Why is having a relaxing place during a stressful period so important? Essentially when a student is completely relaxed in school, they feel calm and to some extent excited or emotionally engaged at the same time. This is the foundation for questioning, experimenting, and mastering new skills and engaging higher order thinking. In this state, the student can feel more confident and have a sense of purpose.
"When in a truly comforting place, I feel like I am at home. I think that is an essential point when students are at school. I think of a "homie place" as an area where anyone could feel truly comfortable to be themselves and take risks," sophomore Elaina Parsons said.  
That is the way that students should feel all the time. An example is in actual classrooms where teachers bring in pets like hamsters, bunnies, and aquarium fish teach students more about behavior, diet, and socialization. Pets fuel a natural fascination with animals and make students feel more at home if they have pets as well.
"Especially during exams, students should really feel at home and be as relaxed and as stress- free as possible, that is why it is called a stress-free zone!" Sophomore Gabriella Thompson said, who is also a member of the Peer Helpers group.
If you are a student who, like most, stresses during exam week, go to the stress-free zone, take some time and make yourself feel at home. Relaxation fuels better and more efficient learning.

About the Contributors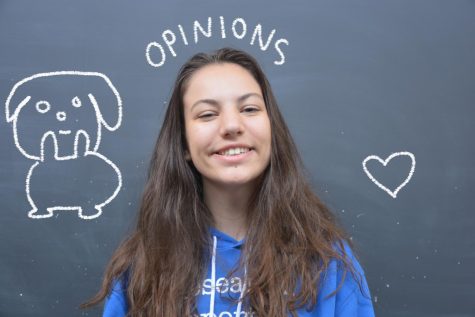 Tana Ososki, RubicOnline
Tana Ososki is the Opinions Editor on RubicOnline. This is her 3rd year on staff and started as a writer in 9th grade. Tana loves to tell stories and learn...