[Q&A] 10 Questions with Will Christakos
Hang on for a minute...we're trying to find some more stories you might like.
Senior Will Christakos stars as a two-sport athlete, playing both baseball and basketball. Currently, the basketball team is 10-4 and has started this season strong. I asked him 10 questions about his past experiences with basketball and how he prepares for each game.
1. What are your pre-game rituals?
A: "I listen to music to get myself hyped up."
2. What kind of player are you on the court?
A: "I'm loud and energetic on the court. I like to be flashy too."
3. Where does your competitiveness come from?
A: "I've been super competitive for as long as I can remember, it probably comes from having three siblings growing up."
4. Is there any significance to the number you wear?
A: "I've been wearing number 2 since I started playing because of Derek Jeter being my favorite athlete, also Lonzo Ball."
5. What is your favorite thing about playing basketball?
A: "My favorite thing about playing basketball is getting really hyped up and making big plays, the adrenaline rush is amazing."
6. What's your favorite pre-game song?
A: "Dreams and Nightmares by Meek Mill."
7. What's your favorite pre-game meal?
A: "Two PB and Js and some chocolate milk."
8. Who do you model your game off of?
A: "I model my game off of Lonzo [Ball] or Magic Johnson. I'm a pass-first point guard."
9. How long have you played basketball?
A: "I've been playing since fifth grade."
10. What is your favorite basketball memory?
A: "My favorite memory is going on a nine-game win streak and going to the section semifinals my junior year."
Christakos and the Spartans Boys Basketball Team plays tonight at 7 at home against the Breck Mustangs at home.

About the Contributor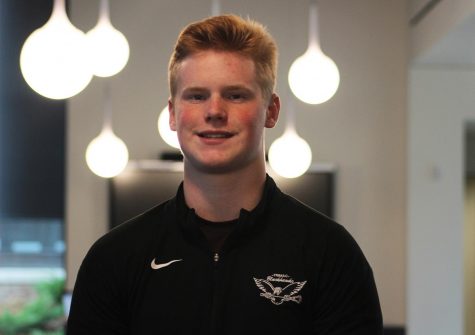 Tommy Stolpestad, Sports Editor
Tommy Stolpestad is the Co-Sports Editor on The Rubicon. He is a junior and he has been on staff since his sophomore year. He enjoys being able to share...