Fones, McCauley enthusiastic about novice debaters
Hang on for a minute...we're trying to find some more stories you might like.
"Phenomenal."
This is the word Tom Fones, Upper School Director of Debate, uses to describe the 2018-19 debate season so far. With 5 tournaments down and more on the horizon, Fones sees promise in this year's new debaters.
"This may be the best group of, the most talented and the most hard-working group of beginning debate students that I've ever had," Fones said.
Senior Olivia McCauley, the Debate program's first student coach, shared a similar view.
"[The season's] good every year, but we have a lot of really, really strong debaters especially in novice," McCauley said.
"There is a lot of enthusiasm surrounding how we've been doing at tournaments. Hopefully that will carry over, not only for the rest of the season, but for the rest of their debate careers as well."
Though it isn't just the beginning debaters that make the season great, it's the whole team Fones explained.
"That's the best thing about the debate community; the minute you reach out there is always going to be somebody available and willing to help you," McCauley said.
"
"This may be the best group of…debate students that I've ever had.""
— Tom Fones
"They are supportive, they like to have fun and they're, in a charming way, nerdy," he said.
Fones wants his students to get out and debate.
"To me, although the results matter to a lot of people, to me getting a lot of people to debate and get that experience is more important," Fones said. "It's more important to me for people to get the skills that they'll use later in their lives…the goal is to get really smart young people a chance to interact with the smart kids from other schools."
While Fones focuses on the debate itself, McCauley's goals center around the culture of the debate community, specifically equity.
"I'm really working on forming a better female community in debate," McCauley said, "strengthening those ties so we have more support for female-identified students who want to really pursue debate."
After noticing she was often the only girl on the traveling team McCauley now hosts debate practices for female identifying students and recommends Beyond Resolved, a debate forum that connects female mentors and mentees in the debate community.
The team that Fones and McCauley focus so much on is reflected in the way 9th grader Noa Gross spoke about beginning debate.
"Everyone's really nice and just wants you to improve and do better," Gross said.
Her first year on debate, Gross was nervous about messing up and letting down her partner but instead found support and feedback.
"They were like, 'you know, here's what you do really well; here's what we need to improve on,'" Gross said.
Fones, McCauley, and Gross all seem to agree that the season theme is support.
This story was previously published in the October 2018 issue of The Rubicon.

About the Contributors
Lucy Benson, Feature Editor
Lucy is a Feature Editor of The Rubicon. This is her first year on staff. She enjoys journalism because she values telling stories and learning about the...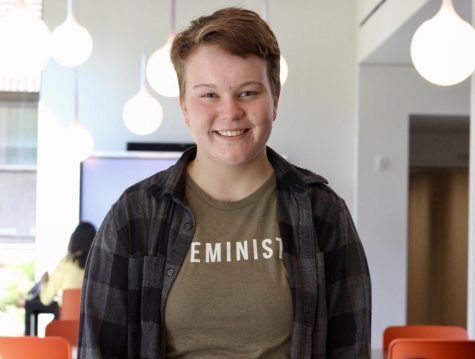 Maren Ostrem, News Editor
Sophomore Maren Ostrem is a News Editor on the Rubicon. Maren worked as a Staff Writer last year, and this is her first year on staff. She loves journalism...