Auburn's success fueled by pre-game tradition
Hang on for a minute...we're trying to find some more stories you might like.
Bracket-busting Auburn has a trick up their sleeves, and it has little to do with basketball and more to do with onion volcanoes and shrimp flipping through the air. The source of their surprising success during the 2019 postseason and their first ever visit to the final four: hibachi. The team began going to hibachi the night before their games two years ago, and the flavors and entertainment have made the dinner into tradition.
"Everything about hibachi is good, the way that they perform and cook the food in front of us is good, and when it's on my plate it's probably going to be gone in about 5 minutes… I'm not going to stop eating it, I'll go without the team or with the team it's just that good," junior forward Danjel Purifoy said.
While some players love the show and anticipate the sounds of spatulas and salt shakers clanging methodically against the hot grill, others are more interested in getting the food in their mouths as quickly as possible. The order: "Triple rice, triple shrimp, triple chicken, triple everything, because I'm not paying for it," freshman forward Myles Parker said.
Hibachi is more than just a fun tradition for the team. Many of the players believe their wins stem from their night of Japanese cuisine together, which might just be true. Auburn dined at a hibachi restaurant in Salt Lake City, Utah the setting for their first-round win against New Mexico State and their second-round win against the University of Kansas.
"The hibachi does magic and wonders. You talk about voodoo, that's the voodoo right there," Parker said.
"
The hibachi does magic and wonders. You talk about voodoo, that's the voodoo right there"
— Myles Parker
The semi-final game was no different, as the team spent the night before at Benihana in Minneapolis.
"Let it work its magic, so we can go out and get a win," junior center Austin Wiley said.
Whether the food itself works magic or not, it is clear that the experience and tradition certainly have. The shared bond between the teammates has been a major component of their success this season, and the time they have spent together has built a palpable unity between the players. The underdog team powered their way to the final four with their strong team dynamic, enhanced by their pre-game ritual. Auburn's on-court chemistry is a result of their interpersonal relationships off the court, nurtured by their visits to hibachi restaurants across the country.
"We're all best friends…this is one of the closest teams I've ever been a part of. They're all just like my brothers in terms of just having fun together and liking to be around each other," junior forward Anfernee McLemore said.
"With every shot, we have trust in each other. Since we love each other so much we have confidence, and that gives the person shooting the ball confidence, knowing that they won't get mad at you if you miss the shot because we just love each other so much," McLemore said.
Auburn played the favored University of Virginia on Sat. April 6 at the U.S. Bank Stadium in a high energy semi-final game, in the end, falling just one point short of their powerhouse opponents. The team played hard until the buzzer and let their undeniably strong team dynamic shine through in their last moments together as a close-knit, hibachi-loving brotherhood.
About the Contributors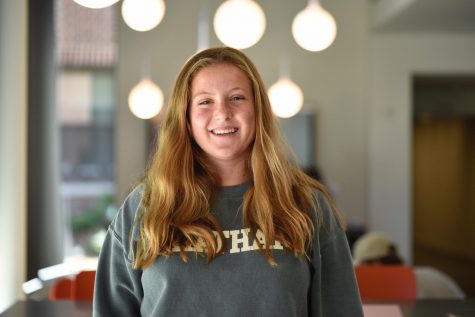 Ellie Nowakowski, Rubicon TV Producer
Ellie Nowakowski is the Executive producer of Rubicon TV. This is her fourth year on staff. She appreciates how journalism has the power to inform and...
Annie Bottern, Social Media Manager
Annie Bottern is the Social Media Manager at RubicOnline. This is her third year on staff. She loves finding new facts about people while she interviews...