[ART REVIEW] Adiós Utopia is eye-catching — but that's about it
Hang on for a minute...we're trying to find some more stories you might like.
Adiós Utopia: Dreams and Deceptions in Cuban Art Since 1950, an exhibit showing at the Walker Art Center through March 18th, attempts to show the Cuban revolution through the eyes of Cuban artists over the past 65 years. The exhibit is topical because of the new direction of US – Cuba relations in the past several years. However, the all-encompassing political statement was met with ambiguity and single-sidedness, according to the Minnesota Cuba Committee.
There was a wide variety of mediums and styles, and the gallery itself occupied several sections of the Walker. The theme that tied the pieces together was that all artists "remained in Cuba" after Fidel Castro's revolution in 1959, according to the Walker. The title itself seems contradictory, as "utopia" was an idea brought with the revolution, not before it, and the artists never left, so why are they saying "Adiós?"
Needless to say, many of the pieces were visually stunning. Not all the styles meshed, given the rarity of Cuban artists living in Cuba, but it was a tremendous effort. The Walker claims that this exhibit is the largest contemporary Cuban art exhibit since a 1944 exhibit in New York City, featuring pieces from over 50 artists.
"
The title itself seems contradictory."
Such pieces included a boat constructed from paperback novels, and a cinder block floor installation that occupied an entire room. There was a decent amount of traditional paintings and photographs as well. Most of the pieces were either representative of the artists' experiences in the revolution or depicted a specific scene in Cuba during and after the revolution. The entire show must be viewed through many different lenses to decode its message, in the sense that no two pieces were alike.
The Minnesota Cuba Committee, who published a critique of the art gallery, claimed that the Walker made a "glaring misstatement" about President Obama's actions in normalizing the US's relationship with Cuba. They were also displeased with the fact that the Walker did not coordinate with any Cuban art institutions in the process of curation.
The exhibit may be worth it from the visual standpoint, with its eye-catching and provocative installations. That being said, know that this perspective of Cuba isn't complete, and doesn't hold a seal of approval from the Minnesota Cuba Comittee.
Rating:
⭐⭐∙ ∙ ∙
2 out of 5 stars

About the Contributor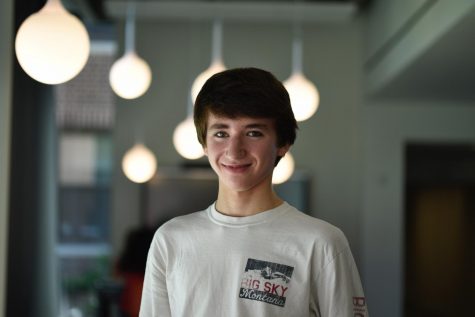 Noah Raaum, Creative Design Manager
Noah Raaum, a junior, is the Creative Design Manager of RubicOnline. He is excited to take on this position for his third year on staff, and plans on improving...